Biden Meets with McCarthy to Discuss the "Tough" Debt Ceiling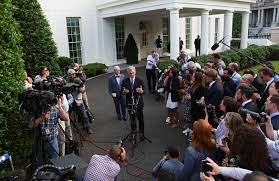 The White House negotiators and Republicans met to discuss the federal deficit, but they have different views on how to address it. Democrats believe that wealthy individuals and businesses should pay more taxes, while Republicans want to cut spending. The meeting lasted for two hours, but no comments were made to the media. Treasury Secretary, Janet Yellen, has warned that the federal government may not have enough funds to pay all of its bills, which could lead to a default, causing the economy to suffer and borrow costs to rise.
Republican Representative, Patrick McHenry, who chairs the House Finance Committee, stated that the two sides still have different opinions on spending, and it is unclear when negotiations will continue.
"If lawmakers ever needed a wake-up call, this is it. Meager tax revenue is exactly the kind of news we don't need right now," said Maya MacGuineas, president of the nonprofit Committee for a Responsible Federal Budget.
April is one of the few times that the Treasury records a surplus, as she noted, "and yet a $176 billion surplus will matter very little when we're borrowing $4.2 billion per day this fiscal year."
The White House spokesperson, Karine Jean-Pierre, described the negotiations as "incredibly tough." She stated that both sides need to understand that they cannot get everything they want, and they need to agree on a reasonable, bipartisan budget that everyone can vote on. The lack of progress in the talks has caused concern in global markets, and U.S. stocks were lower on Tuesday. Democrats want to freeze spending for the 2024 fiscal year, while Republicans want spending cuts. President Biden wants to raise taxes on the wealthy and close tax loopholes for certain industries, but Republican Kevin McCarthy opposes tax increases.
McCarthy said he plans to speak with Biden on a daily basis by phone. Even if they come to an agreement, they will need to convince their parties in Congress to support it. The process of passing the bill through the House and Senate could take up to a week before it reaches Biden's desk for signature.
Both hardline Republicans and progressive Democrats expressed their displeasure with the idea of compromise. Democratic Representative, Pramila Jayapal, who leads the Congressional Progressive Caucus, stated that the majority of its members would not support any deal that included spending cuts or new work requirements for federal benefit programs for low-income Americans, which are both major Republican demands.
Some members of the Republican House Freedom Caucus expressed skepticism about the June 1 deadline for the debt ceiling. The Treasury Department has warned that the U.S. could run out of cash as early as June 1, or possibly in the following days.
Representative Ralph Norman stated that Secretary Yellen should provide a written explanation for the June 1 deadline, in addition to testifying. He questioned why June 1st was considered a drop-dead date. However, top House Democrat Hakeem Jeffries dismissed the skepticism as unfounded.
"The June 1 date is a real one. Secretary Yellen continues to make that clear," Jeffries told reporters.
If Congress does not raise the debt ceiling and allow the federal government to borrow money to pay its bills, the United States could default on its obligations. This could lead to a recession and cause global financial markets to plummet.
Any agreement to raise the debt ceiling must receive bipartisan support and pass both houses of Congress. McCarthy's Republicans have a 222-213 majority in the House, while Biden's Democrats have a 51-49 majority in the Senate.
Despite the political impasse, the two sides have found some common ground in several areas, including permit reform that will assist energy projects in moving forward.
McCarthy stated on Monday that including some permitting reforms in the debt deal would not resolve all related issues. He also mentioned that discussions about further reforms could continue later. McCarthy refused to comment on transmission for renewable energy.
The two sides are also discussing the possibility of clawing back unused COVID relief funds and implementing stricter work requirements for two popular public benefit programs that are aimed at assisting Americans out of poverty.
Leave a Comment