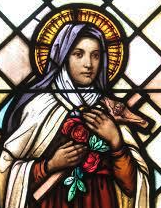 As Catholics, we honor St. Therese of Lisieux on October 1st. She is known as the patron saint of missions and of florists. She is also known as "The Little Flower" and is often described as a very popular Saint who continues to inspire millions around the world who pray for her intercession. Her intercession and prayers have been credited with numerous miracles. She was born January 2, 1873 in Alencon, France.
St. Therese entered the Carmelite convent at 15 years old where she lived a life full of intense prayer and humility. It was there she developed her idea of "the little way" which was a path to holiness through small everyday acts of love and kindness. She believed even the smallest acts when done with love could lead to great connection with God. It was in the convent where she wrote many autobiographical manuscripts about her adolescence and her most intimate experiences and ideas.
St. Therese's autobiography, "The Story of a Soul," is filled with all her deepest thoughts. She wrote about her journey of faith which included her doubts and struggles.  
Her writings have inspired and related to millions of readers across the world and offered guidance in their own spiritual journeys. Many reviews of the story claim how the book is great for all to read from the perspective of a teenager!
She was named Doctor of the Church by Pope John Paul II in 1997. A Doctor of the church is a Saint whose doctrinal writings have special authority. She is one of only four women Doctors of the Church in all of history.
In 1923 the Church approved two miracle cures unexplainable by medical science. The first miracle involved Sister Louise of St. Germain, who was cured of the stomach ulcers she had between 1913 and 1916. The second cure saved Charles Anne, a 23 year old seminarian who was dying from tuberculosis.To this day, many people pray to St. Therese for her intercession to grow in one's trust in God as well as for those who are sick or are hurting.  
St. Therese tragically died at the young age of 24 from tuberculosis. However, her legacy continues as a revered Saint of the Church and a beloved figure for all of Christianity. She was canonized on May 17, 1925.