Eat, sleep, soccer, repeat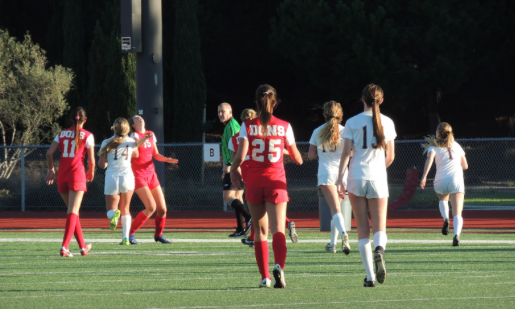 Hang on for a minute...we're trying to find some more stories you might like.
As she nears the end of her junior year and anticipates her senior year, Cathedral Catholic High School student-athlete Bianca Ferrara '18 rests easy knowing the fate of her college decision: Stanford University for soccer.
"I know everybody says great things about Stanford, but it is all 100 percent true," Ferrara said.  "When I visited Stanford I had found my home. Everything was right. I absolutely love the coaches, everybody was so welcoming, and Stanford has phenomenal academics and athletics."
Even though scholarships and college commitments come with great excitement and the feeling of a weight lifted off one's shoulders, every athlete knows the true meaning of sacrifice and compromise.
Through years of training for soccer, Ferrara has missed various birthday celebrations, school dances, concerts, classes, and summertime, but she always keeps her goals in mind. Even though Ferrara has opted out on all sorts of activities, her dream of playing for Stanford University's women's soccer team came into fruition because of her dedication to her craft.
In order to reach her goals, Ferrara tries to tackle them one step at a time, and she would not be able to achieve them without the help of her parents. Ferrara describes the recruiting process as a difficult and stressful ordeal, but her parents' constant support helped her persevere.
"During the recruiting process I went through several mental breakdowns, but my parents were with me every step of the way," Ferrara said.  "They in no means did it for me, but I'm thankful I had them to help guide me through it.
"They just want to make sure I make the right decisions now that will make me happy in the long run."
Before Ferrara moves on from high school, she reminisces the memories she has made with her CCHS team, such as winning the title of CIF Western League Championship this season.
"Year after year the goal remains the same: to win CIF," Ferrara said. "But beyond that aspect, I love seeing our team get stronger with every game we play."
Since Ferrara views the camaraderie aspect of playing a team sport such as soccer as integral to her team's success, she has made lasting friendships with her fellow teammates.
CCHS student-athlete Maddie Mercado '19 looks up to Ferrara as a role model for her strong leadership on the CCHS women's soccer team.
"Bianca is such a hard worker both on and off the field and sets such a good example for me along with the rest of the team," Mercado said. "The energy she brings to the game is something that the rest of my team and I try to replicate."
Ferrara's soccer training does not stop when the CCHS season ends. To continue to hone her skills, Ferrara plays year-round soccer as a member of Surf Soccer Club 2017 Elite Club National League team.
With Surf, she always plays a year above her age group in pursuit of success. Competing against older opponents over the years has prepared Ferrara for the collegiate level.
"My parents had always placed me in the age divison above my grade level, and I am beyond grateful that they did," Ferrara said. "At the next level, girls were stronger, faster, and more fit. This raised my intensity for the game."
In addition, Ferrara earned a spot on the Brazilian National Soccer Team, and she was eligible to play due to her dual citizenship. She had the opportunity to play for them by receiving exposure from the assistant coach at a Surf Club tournament, who then passed her name along to the Brazilian head coach who later reached out to Ferrara asking for film.
Later, she received an invitation to tryout for the team, and rightfully earned a spot, where she continued to play for the Brazilian National Team.
"The experience I received over the several months away from home in Brazil was hard, but the experience is hard to even put into words," Ferrara said. "I had the most unimaginable time doing what I love with people who are just as passionate. It was an experience of a lifetime that I will always treasure."
Stanford and Brazil's gain will one day be the Dons loss.