Homeruns and broken thumbs
Hang on for a minute...we're trying to find some more stories you might like.
More stories from Drew Hemerick
Dons capture Western League crown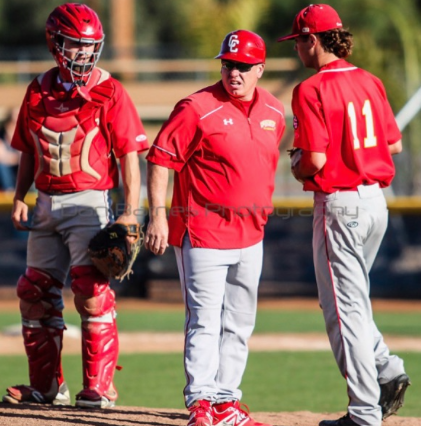 With numerous injuries affecting key players, Cathedral Catholic High School baseball head coach Mr. Gary Remiker, along with his coaching staff, recently shared concerns regarding possible outcomes for the season.
"We have had to deal with some devastating injuries this year," Mr. Remiker said. "We lost our starting shortstop, Danny Becerra, and our starting catcher, Bradley Polinsky, for the season. We lost our centerfielder Jacob Allred for six weeks with a broken thumb."
However, the Dons baseball team persevered through the adversity, recently earning the title of Western League champions. The team, stronger than ever, has proven to be a formidable opponent this season for opposing squads, compiling a 17-8 record that speaks volumes on the Don's depth and ability to rely on its bench.
"When you lose quality players, especially seniors, you really need the underclassmen to step up," Mr. Remiker said. "Fortunately, we had very talented players ready to step in. Joel Stevens has stepped in to be our shortstop and Michael Welch is now catching. Both players are taking advantage of their opportunities and playing quite well."
Last week, the Dons faced off twice against its league rival Scripps Ranch High School.  What ensued was another example of the team's perseverance on the mound, at the plate, and on the field.
Wednesday's home game was scoreless until the top of the second inning when Scripps singled with a RBI to give the Falcons a 1-0 lead.  At the bottom of the third inning, Dons senior Cade Brown's sacrifice fly scored a run, tying up the game. The Dons then went on to rally up four runs in the fourth inning. Allred '18 was walked by a wild pitch by the Falcons, bringing three runs across the plate for the Dons and ensuring victory.
Jake Connelly '19, Logan Whitesides '18, Zavien Watson '20, Welch '18, and Cade Brown '18 all contributed their superior batting skills to Wednesday's victory with a hit for each of them. Runs scored by Allred, Welch, Connelly, Brown, Justin Campos '19 aided the team's success.
While batting is crucial to any baseball game, pitching was the difference between the two teams during Wednesday's afternoon game. Dons pitcher Nick Nastrini '18 went five innings, only allowing one run on three hits while pitching three strikeouts.
"Our pitching has carried us the entire year and all thanks to our phenomenal pitching staff," Jake Rons '19 said. "We heavily reply on our pitchers for results."
Michael Defelippi '18 also threw two scoreless innings.  
Last Friday's away game proved to be even more of a victory for the Dons, with a shutout game against the Scripps Ranch High School, which cemented the team's position as first in league.
Once again, pitching played a crucial role in the team's triumph. Giving Nastrini and Defelippi a break, Noah Owen '18 and Rons were responsible for Friday's pitching. Owen pitched a total of six innings, allowing only four hits total and zero runs. He struck out 10 Falcons overall. Rons threw one inning, allowing no runs.
Offensively, the Dons steadily scored nearly a run per inning until the seventh, when it pulled in three runs in quick succession. Nastrini, Allred, and Brown produced many of the hits.
Scoring runs for the team were Allred, Welch, and Whiteside, while Brown and Nastrini both scored two on Friday. Fantastic batting and spectacular pitching secured a win for the Dons.
Heading into the end of the season, Mr. Remiker maintains high expectations for his team.
"I hope to see our team continue to improve defensively and make sure we make the plays on defense we need to make to win a championship," Mr. Remiker said. "Offensively, we have been improving, but we could always get better with situational hitting and limiting strikeouts."