Is Journalism the Class for You?
I hardly go easy on myself when selecting my course schedule, a sentiment that is common among the majority of my classmates. Perhaps it's in the name of ambition or pride or inquisition; regardless, halfway through my junior year— testing my balance with six vigorous, weighted courses— I prefer to call it a challenge! I feel well immersed in the variety of classes Cathedral Catholic High School has to offer; from tedious lab work to masquerading with my drama class in the Guadalupe Center. Among each of the courses that continue to enlighten me at CCHS, I have discovered my truest potential as a student in Ms. Cairns's Journalism classroom.
As course registration is quickly approaching, elective writing classes are in high demand. When considering your options, I strongly advise taking Journalism 1 or Journalism 2 Honors into consideration. The work in this class allows the freedom to research topics of personal or community interest, each separated into five subcategories: Arts and Entertainment, CCHS News, Sports, Politics and News, and Spiritual Life. Students interested in broadcast careers could join the Podcast team to continue the existing From Don to Don Podcast, Sideline (Sports) Podcast, or pursue an entirely new podcast of their own. From my experience, I have learned that Journalism is a manageable elective that sets students up for success in the field of Journalism, like no other English elective course offered.
I am a second year staffer for El Cid Online, CCHS's written news publication. When I enrolled in Journalism 1 as an incoming Sophomore, I anticipated a typical classroom environment—studious and silent— but what I endured that school year was far from it. In fact, it's misdefined as a classroom entirely; rather, it is a newsroom in its professionalism. One of my most intriguing observations as a student was watching the transformation of our newsroom over the span of two years— and continuing to watch it thrive. The journalism students grew from ten, overworked staffers who shared their space with the yearbook committee in 2021-2022 to a class of 30 passionate journalists in 2022-2023. This year, I have been lucky enough to earn Editor-in-Chief of the CCHS Dons Press. This means that I am in a position of power to continue to grow the program exponentially. This opportunity has taught me to repair and build relationships between student journalists and other leadership organizations on campus. I then used these relationships to get the first printed publication distributed on campus in 15 years. The opportunities this class offered me this year have taught me to take initiative, be inquisitive, and build connections with community members.
Additionally, within the bounds of Assisi Hall 210, I have learned to take advantage of my well rounded education by understanding its real-world applications. For example, any political discussion among journalists would be valuable in my AP Language and Composition work. More obviously, the practice of writing benefits professional analysis in each class across the board. One of my articles, discussing the foundations of Columbus Day, drew on knowledge from my College United States History unit on early explorations. Similarly, each idea for an article pitch was sparked by insight I gathered from other classes. This drives a new sense of eagerness for knowledge and allows me to be more attentive throughout the school day. Additionally, the classroom environment mimics a professional newsroom which prepares me for job opportunities beyond graduation. This formatting teaches how hard work allows for promotion to leadership positions. With experience as a new staffer and a team leader, I learned how to face and overcome adversity from all perspectives. Unlike many of my classes at Cathedral, the lessons taught in the Journalism classroom outlast the school bell and will smoothen my transition to a working journalist. If you are an ambitious writer and are interested in joining our team, visit Ms. Cairns for more information. We hope to see you next school year!
View Comments (2)
About the Contributor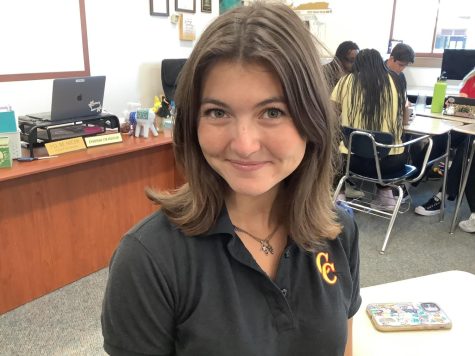 Sarah Brown, Co-Editor in Chief
Sarah Brown. Cheerleader, journalist, and vegan. Sarah has three siblings, all in college and her sister attends Colorado State University. She failed...