USD Women's Volleyball: Hometown History Makers
The University of San Diego's Women's Volleyball had a successful season, to say the least. With 12 West Coast Conference titles and 26 NCAA Tournament appearances, their historic season ended in this year's Final Four to the tournament's eventual champions, the Texas Longhorns. The Toreros ended their season with an impressive record of 31-2, with ranked wins over #6 Pitt, #3 Louisville, #8 Ohio State, #17 Pepperdine, #18 BYU, #24 Washington State, #15 Kentucky, and #5 Stanford; with the last three ranked wins being in the NCAA Tournament.
The roster consists of 18 girls coming from all over the country, from California to Maine. 7 of the 18 are from California. 2 of which have been representing their hometown while playing at USD; Leyla Blackwell, junior middle blocker, and Haylee Stoner, sophomore middle blocker. Leyla played high school volleyball at La Jolla High school and Haylee played at Mission Hills High School. Madi Allen, junior libero, is a hometown honoree, as she would commute from Temecula to play alongside Blackwell at Coast Volleyball Club in Sorrento Valley. About 9 minutes north from Coast Volleyball Club, you can find WAVE Volleyball Club in Del Mar, which is where Stoner spent her club volleyball time at.
Club Volleyball is a big chunk of many volleyball players' lives. One game a season, USD hosts "San Diego Volleyball Club Night", which encourages club volleyball players to come watch the team for just $3. Both Coast and WAVE promote the night in support of their alumni. Since there are club alumni on the USD team, it is common for teams to take team bonding trips down to the Jenny Craig Pavilion to check out a game. Haylee Stoner says, "It warms my heart that I still have support from my club, my coaches especially. One of my coaches has texted me after every game this postseason and it;s just so great to hear that they are following along as they are a big part of where I am today. I hope to be a positive role model to any young volleyball player out there." Madi Allen also adds, "It is so awesome having support from club! Coast is like family to me and knowing that they always have my back, I'm so grateful! I hope I'm a big role model for these young girls and to let them always remember that volleyball should still be so fun when you get older!"
Prior to being at USD, Madi Allen played her first two years of eligibility at BYU, who is in the same conference as the Toreros. Allen says, "Honestly, being back in San Diego has been such a blessing! I'm so happy I'm playing the sport that I love with the team that I love. I don't know what I would do without these girls."
Leyla Blackwell also transferred to USD after playing in the Big 10 Conference at Indiana, "I committed to Indiana while I was in high school because I really wanted a Big Ten college experience. But, after a challenging and difficult freshman year during Covid-19, I realized that the experience I was expecting was not really my reality. I feel so grateful to have been able to land at USD, and to be a part of this program. It feels like I was always meant to be here, and to be on such a competitive and talented team is exactly what I hoped for in my college experience." Blackwell also expresses, "It is a super special experience for me to be able to play in San Diego and have the support from my club. I think growing up in this volleyball community, USD volleyball is the closest team to go watch and support. To be able to be a part of the program and see so many younger girls come support us is very full circle for me. I remember growing up and looking up to the USD team and hoping I could one day play college volleyball like them, and now it is so incredible that we get to have that same effect on young volleyball players in the area."
Leave a Comment
About the Contributor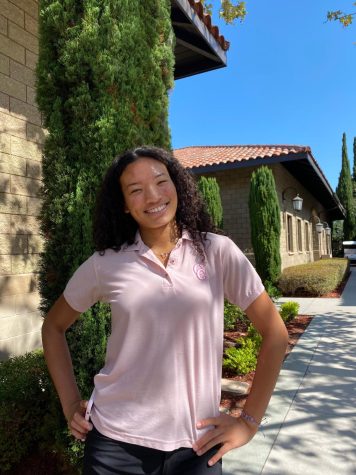 Milan Bayless, Staffer
Milan is a senior at Cathedral Catholic High School this year. Milan was born in the San Diego area, and has lived here her whole life. She joined the...