Over Labor Day weekend, the Black Rock Desert in Nevada set the stage for the iconic Burning Man Festival, but when attendees weren't ready for the unexpected, the weekend turned into a disaster for many. Over 70,000 visitors travel to this rural city in the middle of the desert for the well-known "Burning Man" festival.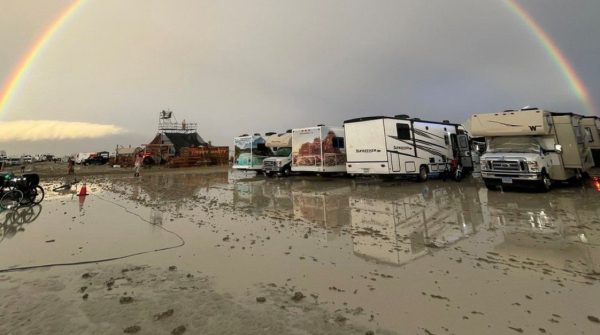 The Burning Man festival focuses on art, self-expression, and creativity while bringing all attendees together into one community. The event gets its name from the iconic igniting of a 40-foot man near the end of the festival. 
However, this year's weather had another plan for the festival. On Friday, September 1st, the Black Rock Desert was impacted by a flash flood that forced over 70,000 attendees to shelter in place. The rain soaked all the campsites on Friday, which caused all the dirt to become mud, making it even harder to leave the site. Driving was even banned due to the heavy rain, which caused inconveniences for people because they had planned flights and other responsibilities that they were forced to miss. 
It wasn't only common festival goers who were stuck. Celebrities like Chris Rock, Diplo, Kelly Gale, Cindy Crawford, Kaia Gerber, and Austin Butler were some of the many to attend, and they were seeking ways to leave the festival early despite the driving ban. Diplo stated on Instagram that he had a show in D.C. that he didn't want to miss. However, he and Chris Rock walked 6 miles until they were offered a ride by a fan. As for the rest of those stranded, they had to wait until Tuesday when the driving ban had been lifted. 
The main focus of the festival was "green activism," yet many people discarded their belongings miles away because they were in fear of not being able to get out. As of now, we don't know what the future holds for Burning Man. Will it come back in 2024?