Dons get revenge
The Dons varsity football team regained bragging rights after a 34-14 win in last night's Holy Bowl.
Hang on for a minute...we're trying to find some more stories you might like.
The Cathedral Catholic High School varsity football team defeated Saint Augustine High School 34-14 yesterday in the annual Holy Bowl, where two of San Diego's Catholic high schools took their longtime rivalry to the field.
The CCHS team, led by running back Shawn Poma '19 and quarterback DJ Ralph '20, traveled to Mesa College for the much-anticipated contest, where the Dons were able to bring home a win.
The stadium seats were filled to capacity last night as the game kicked off.
"The crowd really supported us," CCHS cornerback Elisha Lloyd '20 said. "The momentum was everything for us."
The crowd was not roaring the whole game, however.
Before kickoff, the fans quieted for a moment of silence in honor of CCHS student Ethan Olson and SAHS former varsity basketball head coach Jeff Armstrong, who both passed unexpectantly this week.
CCHS (6-1, 2-0), which was defeated by SAHS (5-2, 1-1) last year in the Holy Bowl, seemed confident entering this year's matchup.
"We were well prepared by all our coaches, and we all swarmed to the ball and put hits on them," CCHS linebacker Nikulas Otineru '19 said.
The Dons defense came ready, forcing a punt from SAHS on its first possession, which led to an 87-yard touchdown pass to Zion Sorani '19 from Ralph.
"Our passing game worked very well tonight," CCHS wide receiver DJ Justice '21 said.
Early in the game, SAHS loaded up the box with extra defenders, forcing CCHS to pass.
"We were ready for their run and pass offense," SAHS linebacker Trevor King '20 said. "They struck first, so props to them."
CCHS continued to apply constant pressure, but SAHS quarterback Angelo Peraza '20 kept many plays alive with his feet and converted many tough passes.
"Their quarterback is an extremely gifted athlete," SAHS running back coach Ebere Winston said. "We knew his best attribute was scrambling."
As the second quarter began, the Dons were up 21-0 with two touchdown runs by Ralph and Otineru.
"I didn't think Coach Doyle was going to call that play, but when he did, I just thought that I had to get in the end zone," Otineru said.
SAHS fought back with a throw to Samuel Scaife '20 for a touchdown.
SAHS cuts the Dons lead to 21-7 at halftime.
"Coach Doyle told us at halftime that we need to finish," Lloyd said. "We came in the second half and executed."
CCHS limited play from Poma in the second half after being slow to get up on a punt return.
"When Shawn went down, we knew that we needed to come together and play better as a whole," CCHS defensive tackle Jake Mitten '19 said. "Shawn is an outstanding player and it was scary, but our offense can air the ball out and make key plays."
Poma, a highly ranked player in San Diego County, seemed to be avoiding any risk of an injury as the game was nearing an end.
Dean Janikowski '19 tacked on two long field goals in the third quarter to increase the lead for the Dons.
However, SAHS answered right back with a drive of its own. Keeping the drive alive with two third and long situations led to a touchdown scamper from Cole Barry '19.
The Dons lead then shrunk to 27-14.
SAHS retained possession of the ball, but on the first play of its drive, Lloyd forced a fumble, giving the Dons possession inside the 10-yard line. CCHS took no time to capitalize with a touchdown pass to Justice.
The Dons increased its lead to 34-14, which ended being the final score.
Both quarterbacks controlled the game for his offense, combining for more than 400 yards. The Dons early lead seemed to be too much for the resurgent SAHS offense.
There was no elaborate strategy for the Dons coming into this game.
"The game plan was simple," Ebere Winston '20 said. "We wanted to take away what Saints does best."
SAHS expressed hope for future matches between the rivals.
"We were able to stop them on the ground," SAHS running back Luke Ghosn '19 said. "We will continue to fight hard, and we will be back next year."
SAHS hopes to finish its season on a high note.
"We're really looking forward to playing Madison," King said. "They have a great team, and coming off of a loss makes us even more hungry."
CCHS continues league play next week against Christian High School, and SAHS plays a league game against James Madison High School. Both teams are looking to finish strong to have a chance to play for a CIF Championship.
This Holy Bowl was one for the books. The players felt fortunate to be a part of arguably San Diego's greatest high school football rivalry.
"Being a part of this rivalry is outstanding," Mitten said. "It makes us work harder."

About the Writer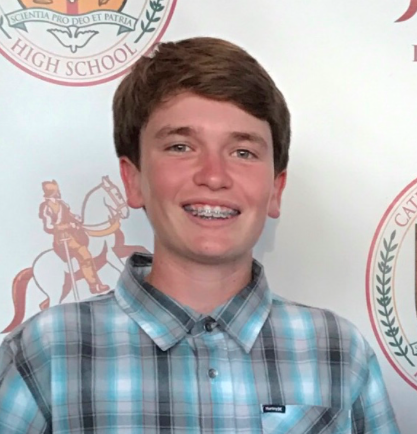 Shea Linnehan, Assistant Sports Editor
As Assistant Sports Editor for Cathedral Catholic High School's student newspaper, El Cid, I look forward to working with my fellow students who have...