El Cid and memes: name a more iconic duo, I'll wait…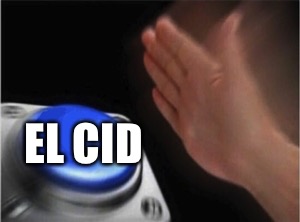 Hang on for a minute...we're trying to find some more stories you might like.
Growing political and social tensions best characterize the start of 2017, and many Americans, young and old, are uncertain and frightened about the future. And with most of those Americans accessing social media daily, many people are blowing off steam with memes.
"Nothing gives me sweeter release from the inescapable knowledge of my own impending doom than joking about it with other teens on the internet," Cathedral Catholic High School student Emily O'Heir '18 said.
Merriam-Webster Dictionary defines "meme" as "an amusing or interesting item (such as a captioned picture or video) or genre of items that is spread widely online, especially through social media."
"Memes spread so easily because they're funny," CCHS student Cambria Galloway '17 said. "That's really it, I think. It's like having an inside joke with thousands of people."
Although it is only February, 2017 already possesses its fair share of entertaining, quickly spread memes. Among the most popular memes are Salt Bae, a Turkish chef who rose to fame overnight thanks to one Instagram video of his signature salt sprinkling technique, and "cash me ousside, howbow dah?" phrase coined by 13-year-old Danielle Bregoli on The Dr. Phil Show.
Another meme that rose to internet fame recently is Roll Safe advice, a picture of Hood Documentary character Roll Safe tapping his temple and smirking accompanied by various "advice" captions such as, "You can't be broke if you don't check your bank account," and "You can't get cheated on if you don't get into a relationship."
Plenty of political memes also have made the social media rounds since President Donald J. Trump's inauguration in January.
Former first lady Michelle Obama's many moments of side-eye and exasperation during the recent presidential inauguration were captured on camera and celebrated on social media.
Mr. Trump's press secretary Sean Spicer became a meme after a press conference during which he claimed Trump's inauguration "was the largest audience to ever witness an inauguration, period," an unsubstantiated claim that gave rise to the trending Twitter hashtag #SpicerFacts.
Twitter users also superimposed terrible drawings and silly statements over Mr. Trump's executive orders as he held them up in the Oval Office.
"Besides just being entertaining, memes, especially political ones, are a pretty good way to express your feelings online," O'Heir said. "If you feel a certain way about Trump, instead of posting a long rant, you can post a meme that makes you laugh and makes other people laugh while also expressing your beliefs."
2017 also has seen several flash memes, which are highly topical, event-specific memes  that blow up and quickly fade away.
The first flash meme of 2017 was the Hollywood sign prank, in which alleged trespassing pranksters, whose case is still in the courts, changed the sign to read Hollyweed. With many people proclaiming 2017 to be off to a better start than 2016,  internet users took to Photoshop to create their own versions of the Hollyweed sign, writing anything from the lyrics to Smash Mouth's "All Star" to "Bush did 9/11" to the script of the Bee Movie and captioning their picture with "they changed the Hollywood sign again."
Another popular flash meme was Lady Gaga's Superbowl halftime performance, during which she leapt from the roof of the stadium and slowly floated down to the stage. This imagery spawned Spongebob comparisons and relatable captions such as "me jumping to conclusions."
With the majority of the CCHS student body present on some form of social media, it is no surprise that memes find their way into the classrooms and halls.
"Most memes are based around shared experiences, so it makes sense that the few memes at CCHS involve teachers–like those videos that were passed around of Mrs. Lonergan and Madame Chaillou dabbing," O'Heir said. "However, there's not as much of a thriving meme culture outside of relabeling mass media memes for a CCHS audience."
Students recently saw such "relabeling" in Assisi Hall, where posters depicting Guy Fieri and "name a better duo" are advertising Campus Ministry Outreach's XLT night.
These memes are the latest, but certainly not the last, iterations of popular memes at CCHS, and the rest of 2017 will undoubtedly bring new memes to soaring popularity.