CCHS Track and Field season commences (slideshow)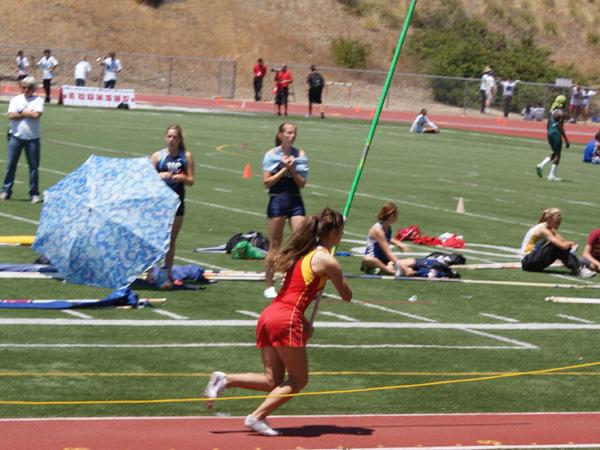 Coach. Geiger's Dad and Coach. Geiger's Dad
Hang on for a minute...we're trying to find some more stories you might like.
With the winter spell coming to a close and spring time starting anew, it is time for Cathedral's track and field season to commence.
Track and field is the largest team on campus, with over 150 athletes involved.  There are no cuts, and there are sixteen different events, including sprints, jumps, and throws, so, according to Coach Dan Geiger, there is "something for everyone."
On top of having a myriad of differing events, Coach Geiger said, "Track is a fun sport where you can challenge yourself individually while being on a team at the same time".
Junior Jady Tolda, who has been on the girls varsity team since she transferred from Bishop Manogue Catholic High Schools in Reno, Nevada, said that all of the teams are devoted to one another and that "there is a huge family bond" between the athletes.
Jady Tolda, a quondam sprinter and prevailing pole-vaulter, called pole-vaulting a fun activity and said she is anxiously awaiting the familiar family aspect that track provides its participants and the opportunity to watch younger competitors improve their abilities and later compete.
Jady also stressed the importance of time management while participating in track and field. Before the official start on February 18th (for long distance runners and returning varsity athletes) and February 21st   (for all participants), Coach Geiger initiated pre-season conditioning,  consisting of daily 2-hour practices on both track and in the weight room, three to five times a week in order for athletes to be more prepared for the season.
Training outside of practice is encouraged, as is a healthy diet, which Coach Geiger said involves strictly banning all forms of greasy foods.
Jady said, "Track is a great way to make friends and get in shape…and working together is cool."
In recent history, Coach Geiger said, Cathedral's track team has been "very successful."  Over the last four years, both boys and girls have won 3 league titles.
Although the track team has the upper hand when it comes to experience, this upcoming season is expected to be a tough one, as more talented competitors are gearing up to compete against the Dons.  Also, several strong athletes graduated from Cathedral last year.
Coach Geiger said, "As we approach the upcoming season, our expectations are the same as with every season: we want each of our athletes to realize their full potential, represent the school to the best of their ability, and then challenge for team league title."