Hyped for Heaven
Hang on for a minute...we're trying to find some more stories you might like.
Cathedral Catholic High School alumnus Matt Goyette '17 claims the positive reputation of a spirited soul around campus and town, but many students remain unaware of the transformation of faith he underwent before discovering the light at the end of the tunnel, a path he follows by dedicating his life in pursuit of Christ through ministry, service, and surfing.
"I used to be fully consumed by my selfish needs, and I lacked a vision for others," Goyette said. "My sophomore year was full of searching for God in all the wrong places, which led to a very dark place in my heart."
After falling into a depression two years ago, Goyette recounts a vacancy in his heart without God, which highlighted his pessimistic mindset and negativity before committing himself to the Catholic faith.
"I fell into a dark depression after my sophomore year, but God's love brought me out of that horrible place," Goyette said. "The darkness that I went through is by far the best thing that ever happened to me because it is the whole reason I came to know God and His loving heart.
"I was fully saved by God's love."
However, navigating faith alone remains difficult without the impact of friendships and relationships, serving as constant guides to strengthening the faith.
"My relationships back then were pretty shallow, but with God, everything goes so much deeper," Goyette said. "When you start to love people like Jesus, your life begins to change in ways that just keep pointing you back to our Father."
Goyette describes his new friendships and relationships, including CCHS alumna Thomas Lowery '17, student Megan Oitzman '18, and spiritual director Fr. Martin Latiff, as fruitful and faithful, constantly urging him to seek out Christ's love.
Longtime high school friend and supporter, Lowery, finds a constant radiation of joy from Goyette, despite a rollercoaster high school experience.
"My initial reaction of [Goyette] was that he was such a wonderful, down-to-earth individual," Lowery said. "Our relationship is beautiful, and [he] has helped me grow stronger in my faith and more open to the Lord."
Celebrating the power of friendship and discipleship, Goyette extended his evangelization beyond just the CCHS quad and hallways last year, but also through lunchtime Bible study he hosted alongside Oitzman every Thursday, opening the doors for students from all grades to join in prayer, scriptural reflections, and discussion.
"Before I even met Matt Goyette, I already knew everyone admired his outward love for the Lord," Oitzman said. "When I did meet him, I was immediately drawn to his positivity and inclusive heart."
Just like Lowery, Oitzman's introduction to Goyette exceeded her expectations, soon discovering the perfect person to collaborate with for weekly Bible groups.
"Because of his example and contagious spirituality, I started to get more involved in my Campus Ministry class and Catholic groups on campus," Oitzman said. "I have watched Matt's interpretation and explanation of the Word of God impact so many people's hearts. Whether he knows it or not, he has had one of the biggest impacts on my life as well as the entire CCHS community.
"I [felt] so blessed to lead a Bible study with him."
Although Goyette impacted many students on campus, the great example he looks up to besides Jesus himself is Fr. Martin, his primary director and guidance over his high school career.
"I have always seen Matt's strong love for the Lord," Fr. Martin said. "He carries out an indescribable joy for all that he does."
Fr. Martin's open-door policy for spiritual direction granted Goyette an abundance of opportunities to grow in his faith in the CCHS community, introducing him to retreats and Campus Ministry.
"The retreats and everything involving Campus Ministry has pushed me to pursue the heart of Jesus all the days of my life," Goyette said. "The CCHS community is so beautiful, and it has pushed me to love more deeply and live more fully."
Ms. Marie Lopez, a CCHS Campus Ministry retreat and outreach teacher, sees the best of Goyette's positivity through student-run retreats on and off campus.
"He is enthusiastic the minute he steps into the classroom," Ms. Lopez said. "He never fails to tell his classmates he loves them."
Making his life a daily representation of his love for God, Goyette seeks out new ways to spread his joyfulness outside of school as he embarks on new adventures at John Paul the Great Catholic University next year.
"I am a person that constantly needs to be doing something because when I let myself get lazy, I start giving into temptation," Goyette said. "The people around me, the ocean, my dog, nature, and so many other things keep me steady and strong in my faith."
As Goyette continues his pursuit of Christ at a Catholic school next year, his example remains with CCHS students today.
"Love is all I want to do with my life because I truly believe love is the only thing that makes this life worth living," Goyette said. "Love alone makes me want to pursue God more and more. 
"I just try to love at every opportunity I can."

About the Contributor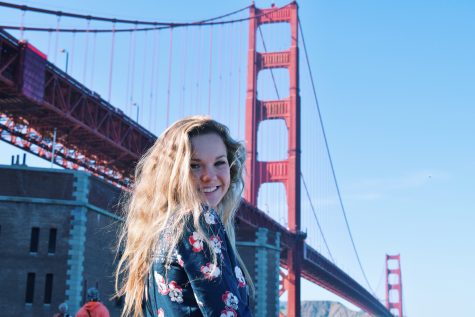 Maddy Bass, Spiritual Life Editor
"A spirited soul living in  Southern California," is how most people describe me. I like to think of myself as a happy face strolling through her senior...