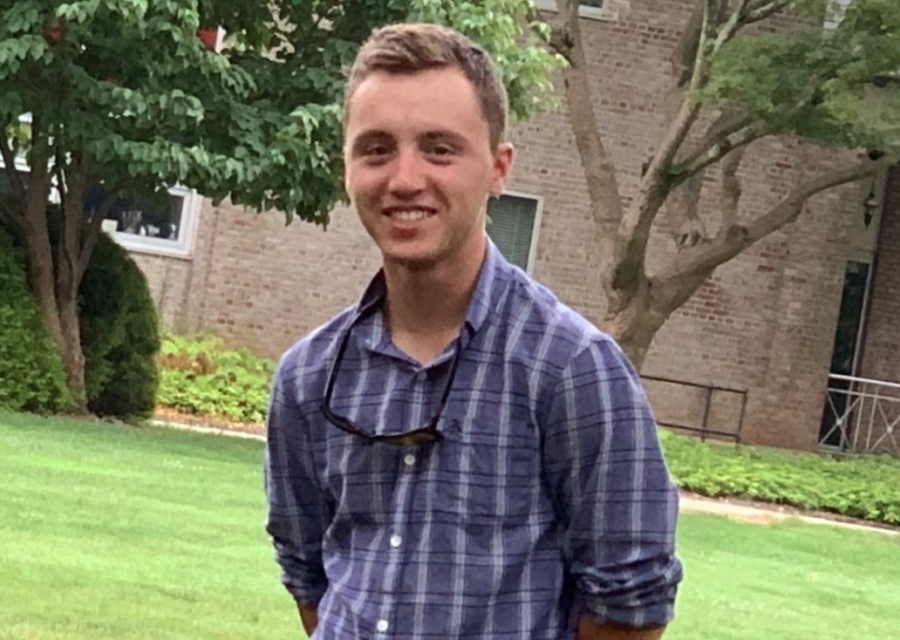 After my first year as the Sports Editor for
El Cid,
I progressed to Photography Editor, as photography fits my skill set very well. I originally joined
El Cid
to improve my writing skills and meet others who value the same interest in writing as me, but my time here developed into a re-awakening of my photography skills from middle school and the discovery of my hidden talent for sports photography. Along with bass fishing on weekends, I spend plenty of time sailing San Diego Bay and Mission Bay with the sailing team or with friends. I also obsess about the European Racing series Formula One, in which I get up at odd hours to tune into races on the other side of the world. I look forward to writing for
El Cid
during my senior year at Cathedral Catholic High School and capturing all the success and special moments found all around campus into my camera and onto your screen.
Alex Woodmansee, Photo Editor
Apr 29, 2020

San Diego residents face COVID-19 challenges

(Story)

Mar 11, 2020

Week in Pictures March 2, 2020 – March 6, 2020

(Story)

Mar 05, 2020
Mar 03, 2020

Week in Pictures February 24, 2020 – February 28, 2020

(Story)

Feb 25, 2020

Week in Pictures February 18, 2020 – February 22, 2020

(Story)

Feb 19, 2020

Week in Pictures February 10, 2020 – February 14, 2020

(Story)

Feb 12, 2020

Week in Pictures February 3, 2020 – February 7, 2020

(Story)

Feb 05, 2020

Breaking boundaries

(Story)

Feb 05, 2020

Week in Pictures January 27, 2020 – January 31, 2020

(Story)

Jan 28, 2020

Week in Pictures January 20, 2020 – January 24, 2020

(Story)

Jan 22, 2020

Week in Pictures January 13, 2020 – January 20, 2020

(Story)

Dec 11, 2019

Winter sports begin

(Story)

Dec 10, 2019

Week in Pics December 2, 2019 – December 9, 2019

(Story)

Nov 24, 2019

Dons take on nationally-ranked Trailblazers

(Story)

Nov 19, 2019

Week in Pictures November 11, 2019 – November 15, 2019

(Story)

Nov 12, 2019

Week in Pictures November 4, 2019 – November 8, 2019

(Story)

Nov 05, 2019

Week in Pictures October 28, 2019 – November 1, 2019

(Story)

Oct 30, 2019

Week in Pictures October 21, 2019 – October 25, 2019

(Story)

Oct 22, 2019

Week in Pictures October 14, 2019 – October 18, 2019

(Story)

Oct 15, 2019

Week in Pictures October 7, 2019 – October 11, 2019

(Story)

Oct 09, 2019
Oct 08, 2019

Week in Pictures September 30, 2019 – October 4, 2019

(Story)

Oct 01, 2019

Week in Pictures September 23, 2019 – September 27, 2019

(Story)

Sep 25, 2019

Week in Pictures September 16, 2019 – September 20, 2019

(Story)

Sep 17, 2019

Week in Pictures September 9, 2019 – September 13, 2019

(Story)

Sep 10, 2019

Week in Pictures September 2, 2019 – September 6, 2019

(Story)

Sep 08, 2019

Dons remain undefeated

(Story)

Sep 03, 2019

Week in Pictures August 26, 2019 – August 30, 2019

(Story)

Aug 28, 2019

Week in Pictures August 19, 2019 – August 23, 2019

(Story)

Apr 10, 2019

Spring sports check in

(Story)

Feb 18, 2019
Feb 14, 2019

Anyanwu advances Dons

(Story)

Feb 06, 2019

Driven for points

(Story)

Dec 20, 2018

Winter sports starting strong

(Story)

Dec 06, 2018
Nov 12, 2018
Oct 22, 2018

Dons split after forfeit

(Story)

Sep 23, 2018

Dons dominate Eagles

(Story)

Sep 08, 2018

Lady Dons drum up defeat

(Story)

Sep 02, 2018

Venerating veterans

(Story)