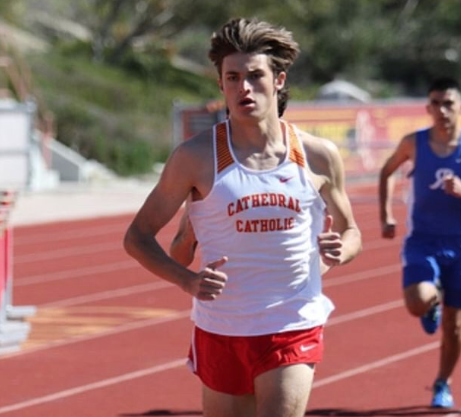 Boys and girls track and field
The Cathedral Catholic High School track team is set for the upcoming season with a roster full of experienced athletes.
One of those athletes is David Hoiles '20, who will compete in the 4×400 meter relay race, the 800-meter race, and 1600-meter race/mile this upcoming season. Hoiles has been running track for all of his time at CCHS and even for a bit of time before high school.
Although the team is really big, he knows some general goals for himself and the team as a whole.
"I want to qualify for CIF and complete the 800-meter race in 1:56," Hoiles said "I expect the team to have a good showing at CIF and hopefully get a podium position."
The other side of the track team is the field team.
There are several different events that are all different, but Trevor Wahl '20 knows what the team tries to shoot for at each meet. Wahl is competing in shot put and varsity discus in the coming season.
"Our goals for the season are to win league and compete for CIF, and also to get stronger with throwing the shot put and discus each practice, and (personal record) each meet," Wahl said.
Although the season has just started, the boys are confident heading into the remainder of the season, hoping to finish the season strong.