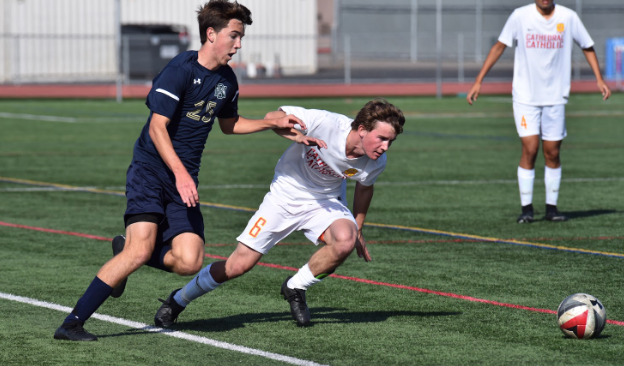 Boys soccer
In 2012, Nate Hetherington left the San Diego Sockers and retired from Professional Arena Soccer. Six years later, he finds himself head coach of the Cathedral Catholic High School varsity boys soccer team who boast a 3-2-0 record.
The Dons got off to a quicker start this year than last year, and hope to continue this throughout the regular season and into the open playoffs. The players have high hopes of making the playoffs and to win the open division championships, in which they have won 2 of their last 4 appearances.
New to the team, forward Matthew Goddard '20 has showcased his skill this season as the only player on the team to average more than one goal per game this season.
"Matt will be the first to tell you that he couldn't do it without his teammates' awareness and finding him." Hetherington said, "He has done a fantastic job putting himself in goal scoring positions and scored some beautiful goals in the first five games."
Goddard came back from academy soccer to play for the school, and Hetherington noted that his positive attitude has been an asset to the team. Seniors Aidan Cerveny and Diego Argueta have also been a positive influence while leading the team this year.
"I'm also impressed with our two senior captains [Cerveny and Argueta]" Hetherington said, "They've become great leaders and show by example for their younger teammates."