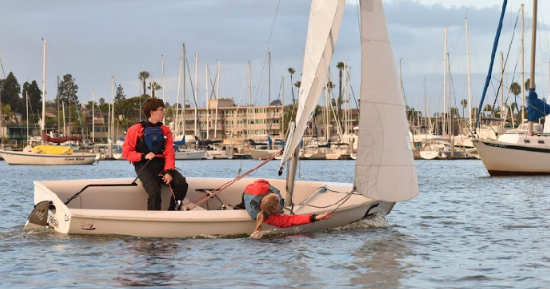 Co-ed sailing
The promises of icy wind and frigid water didn't stop any freshman from joining the CCHS sailing team at the beginning of this season, as five newcomers joined this years squad.
"We primarily have newer, [inexperienced] sailors that joined the team this year," captain Kyle Gallagher '19 said, "they've been improving and getting better exponentially."
Sean McDermott '22 is no stranger to the sport and has been sailing for several years.
"I found out about the team through Mission Bay Yacht Club, where my family has a membership." McDermott said, "[After a few months], I think I'm playing an important part on the team because I have been able to skipper (the "driver" of the boat) at a few of our regattas this season."
The three other freshmen also have some sort of sailing experience before the team, so the sport wasn't a total mystery.
Although Michael Murphy '22 has been the only freshman this season to start in an intersectional regatta, the future of the team is deeply invested in its underclassmen as only three of their sailors are from the class of 2019 and 2020.