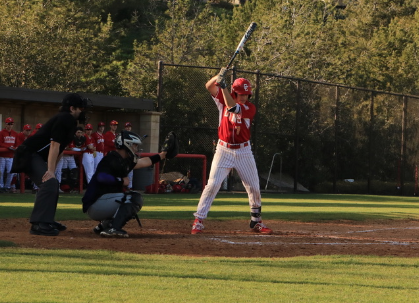 Boys baseball
With spring finally here, the Cathedral Catholic High School baseball team is ready to take on its upcoming schedule and postseason.
Fifteen games into the regular season the team's record stands at 8-7.
Utility player Matthew Surprenant '19 looks forward to the season as a chance to prepare for the California Interscholastic Federation playoffs.
"We are just playing these games so we can build momentum for league and the [CIF playoffs]," Surprenant said. "It doesn't matter what the outcome is. We are just trying to get better and to be in full stride by the end of the season."
Standout pitcher Jake Rons '19 boasts a 1.35 ERA and 24 strikeouts after pitching five games. Texas Tech-bound Thomas Carter '19, another pitcher who is playing his final year for CCHS, knows what he wants to complete by the end of the season.
"My ultimate goals on the mound this season is to maintain focus on the current pitch and situation, control what I can control, and to stay with in myself at all times." Carter said.
Joel Stevens '19 , another notable player, is batting average .257. 
"I plan to contribute to the team this season by doing what is best for the team, doing what is asked of my coaches, and always giving 110 percent when I'm on that field,"  Stevens said.
After an injury prevented him from participating in the first few games, Stevens still has some sizable goals for the team by the end of the season. Like many other players on the team, he too wants to make it to the postseason and win the San Diego Championship for CCHS.
"A specific goal we have as a team is to grow as a team and better ourselves day in and day out and to chase down a CIF title and league title," Stevens said.
The Dons did lose former player Nick Nastrini '18 last year after he graduated. Nastrini, a top player on the team, posted a .397 batting average in 87 at-bats. Zavien Watson '20 is continuing where Nastrini left off last year, batting .318 with 14 hits after 14 games. His standout performance carries much of the team's efforts.
Although the Dons endured a rough start, the team's confidence and record is improving as it approaches CIF playoffs.
"If I do my part," Surprenant said, "I know the other guys will do their [parts]."