Cathedral's 2nd Annual Wish Week
The last week of April was the Cathedral students' favorite week of the year, Wish Week. Wish Week began last year, and was founded by ASB students to give each student in the Options program an opportunity to make a wish.
Each wish allows students to brainstorm an activity they would like to participate in on campus. From meeting Darth Vader and Cinderella, to co-starring in CCTV (the CCHS television program) all students in the Options program had the freedom to make their biggest dreams come true.
All students and administrators anticipate the exciting activities within Wish Week. Mrs. Day shares that Wish Week, "puts smiles and joy in not only the students in Options, but it also brings joy to everyone around them." This is exactly what Wish Week is all about, bringing more happiness to students throughout campus.
Wish Week is a particularly memorable tradition because the idea originated from Cathedral students, and was created for Cathedral students. Wish Week is one of many opportunities throughout the school year that helps unify and celebrate students on campus.
Behind the scenes of Wish Week, students in ASB plan out each activity throughout the week, which is then approved by Mrs. Day. Each student in Options is then able to select a wish. ASB must ensure that every student has made a wish, and then determine what is needed to make each wish come true. Many student's wishes relate to passions or hobbies they love, like fashion or movie-making.
Wish Week began on Monday, where Adrian received a Lego Set that he assembled with his mentor. At lunch, the Options program gathered for Robin's baked goods party. Kaitlynn Linaugh, an Options mentor recalls, "I loved seeing the pictures of everyone, they looked like they were having so much fun!"
On Tuesday, Aubrey co-anchored in CCTV with Emma Hellenkamp. Aubrey's wish came to life when she saw Emma star in CCTV each week. Mrs. Day shares that is exactly how many student's wishes originate, "By seeing other CCHS students lead by example."
Wednesday was many students' favorite activity, a fashion show featuring popular characters Darth Vader and Cinderella. Enya Grooms, an Options mentor recalls, "I loved seeing the students so excited to see Darth Vader and Cinderella, Ebin kept talking about how happy he was seeing Cinderella."
Thursday, Sheila's wish came true, a puppy party during 7th period shared with all of her friends. Students Gabby, Ebin, Avery, Nick, and Alex all got special meals for lunch, ranging from Jersey Mike's to Rubios.
On the last day of Wish Week, Nick's film aired on CCTV. As a movie-making enthusiast, Nick wanted to broadcast one of his skits on CCTV. After Nick's skit aired, students in all classes excitedly followed Nick's movie-making accounts on social media, and complimented his skits in the halls.
Wish week concluded with a pool day, including floaties, beach chairs, and most importantly- popsicles and ice cream. CCHS student Olivia Terramani shares that she had a "fun time at the pool party with my friends." All students shared Oliva's excitement, with music and time with friends, everyone had a fun-filled Friday at the pool. Mrs. Day recalls, "Wish Week makes my students so happy, and that is what I want most for them!"
Even though Wish Week is only one week out of the school year, there are many other opportunities to connect with students in the Options program. All students are invited to join Cathedral's branch of Best Buddies, which has many activities with students in Options, such as ice skating and beach days. There are also numerous NHS activities designed to connect students throughout campus, including Christmas celebrations, and other holiday parties.
Cathedral's annual Wisk Week brings so much joy and excitement throughout campus. As students, we are all so lucky to have so many opportunities and programs to connect and unify our student body as one community.
Leave a Comment
About the Contributor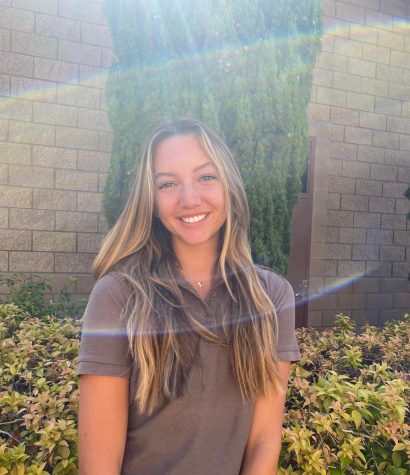 Brooke Johnston-Quirarte, Social Media Editor
Brooke Johnston-Quirate is a junior at Cathedral Catholic High School. Brooke was born in San Diego, California and her birthday is on August 13th. She...