Building for a cause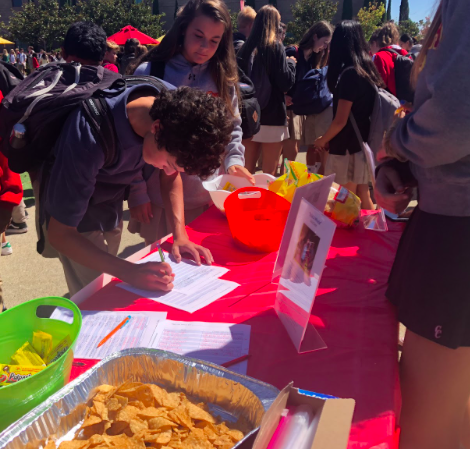 Breaking the timid freshman stereotype, Cathedral Catholic High School student Daniella Benitez '22 began her time at CCHS by immediately founding a club, bringing an international and charitable group to the student body.

"This is something that is important to me, so I pushed myself to step up and do it," Benitez said. "I never imagined starting a club until I got involved with Build a Miracle and found something that I am so incredibly passionate about."
Build a Miracle, a foundation that organizes trips to Tijuana, gives students and adults the opportunity to build houses for Mexican families in need. Benitez, heavily involved in the organization, brings her enthusiasm for service to fellow CCHS students.
In the past, Build a Miracle worked with the CCHS baseball team to fundraise toward building playgrounds for families, but CCHS and the Build a Miracle club have broadened their efforts, and any student who signs up expands their horizons while helping others, Benitez said.

To get the club started, Benitez enlisted the help of her tennis teammate and CCHS student Tess Dufour '19 to brainstorm for Build a Miracle's advertising.
"We both really wanted to raise awareness of the organization at CCHS and a club was the perfect way," Dufour said. "The number of people that were willing to be involved and signed up during lunch at our booth was inspiring."

To begin building the club's foundation, Benitez and Dufour met with CCHS President Mr. Stevan Laaperi, who became interested in Build a Miracle as it connects with CCHS' core values.

"We believe that our students are people of faith who practice the Catholic values of charity, service, and social justice," Mr. Laaperi said. "We really want to challenge them to take initiative and engage themselves in the global community to change the world."

Benitez's drive to help her community has a long history, as Benitez actively works with the Build a Miracle team already.

"I have always tried to do small things to help people," Benitez said. "But I realized that I was not significantly changing anyone's life, so I wanted to do something big."
First introduced to Build a Miracle during an eighth grade trip, Benitez's opportunity to help the organization came last summer when she raised more than $16,000 to build a house in Mexico. In close contact with the organization's founders Chris and Julianne North, she continues to motivate others to give back and donate.

"I could not be more proud of her and the way she has taken her passion for helping others and has grown it into something so big," Mrs. North said. "She is making this world a better place by providing homes for people in Mexico, and by involving people from our side of the border and teaching them how to love and care."
Throughout this year, the students look to further spread their passion and spirit to the CCHS community by encouraging it to donate and help out through fundraising efforts like car washes, bake sales, and parent donors, Dufour said.

The Build a Miracle club held its first meeting at lunch on Oct. 8, with leaders meeting members and discussing the goals and many different fundraising methods for the year. More meetings are to be scheduled and will be announced on their schoology group and email chain.
"Daniella and Tess are two truly exceptional students who are great examples of servant leaders within our school community," Mr. Laaperi said. "They are stepping up to adult challenges right now, instead of waiting to become involved in helping others."
"Their personal commitment to service is an inspiration for students, faculty, and administration at CCHS."