Survival guide: midterm elections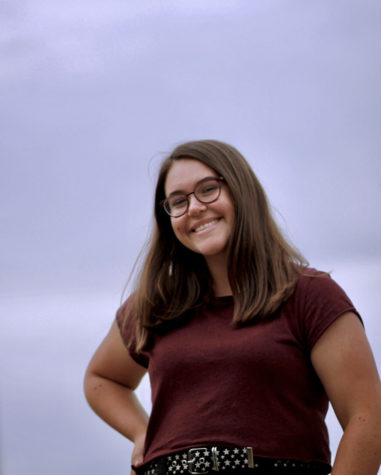 More stories from Angelina Hicks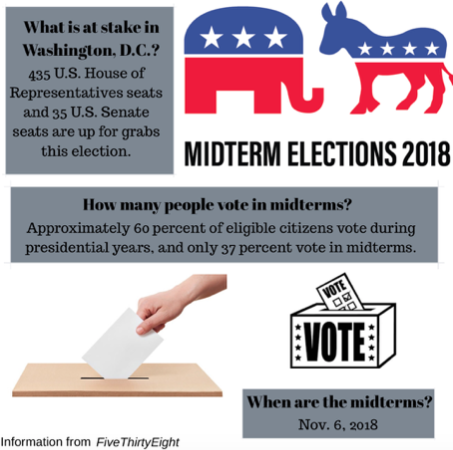 On nearly every social media platform for the last six months, celebrities, influencers, and political commentators all have been encouraging, promoting, and even begging U.S. citizens to vote this Nov. 6 in the midterm elections.
But it is not a presidential election year, so what gives?
Many adults will vote in the midterm elections, the races placed directly between presidential elections that ask voters to decide federal, state, and local level representatives.
Since midterm elections, which are also referred to as the November general election or the gubernatorial general election, do not decide the presidency, many students and citizens lack the interest or knowledge of the importance and influence midterms carry.
In 2018, 435 U.S. House of Representative seats, 35 U.S. Senate seats, and thousands of state and local positions are up for grabs, and only citizens can decide the outcome. Contrary to presidential elections that utilize the Electoral College to decide presidency, congressional elections rely solely on the outcome at the polls made directly by the people.
Members from the House of Representatives serve two-year terms, and the number of representatives afforded to each state derives proportionally from each state's population. Senators serve six-year, overlapping terms with each state electing two senators, resulting in one-third being replaced every two years.
This year's midterm elections hold an important deciding factor as the results will determine whether the Democratic Party or Republican Party will control Congress, most notably the House of Representatives, which could block President Donald Trump's agenda if the Democrats seize control.
Democrats currently hold a 76.9 percent chance of winning the House, and Republicans have a 23.1 percent chance of keeping control. Democrats are favored to win a majority of seats if they win the popular vote by at least 7.2 points, according to FiveThirtyEight, an ABC News-sponsored website focused on opinion poll analytics, politics, and economics.
According to the New York Times, a Democratic-controlled House will result in investigations into Mr. Trump's administration, possible impeachment proceedings, and a divided government. Contrarily, a Republican-controlled House will result in more single-party rule, possible tax cuts, and almost certainly no acts toward impeachment.
There are 53 districts in California, each with one representative in the House. There are two candidates for each district who citizens will vote for on Nov. 6.
The five most competitive House races in the country — Iowa, Florida, Texas, California, and Maine –will play a vital role in determining what party will win majority, according to Axios.
In the 35 seats up for election in the Senate, Democrats hold a 19.1 percent chance of winning control, and Republicans have a 80.9 percent chance of keeping control in the Senate, according to FiveThirtyEight.
In California, there is a 100 percent chance a Democrat will win the one Senate seat up for grabs. Five-term incumbent Democrat Sen. Dianne Feinstein of California faces Democrat Mr. Kevin de Leon, with Sen. Feinstein holding a 98.6 percent chance of election, according to FiveThirtyEight.
Citizens will also have the opportunity to elect either Democrat Mr. Gavin Newsom or Republican Mr. John H. Cox for California state governor.
Californians can also vote on ballot propositions and measures, which get certified to appear on ballots in the general election after enough voters sign a petition, qualifying it to get voted for on a larger scale.
Popular propositions and measures include Proposition 6, which would repeal the 2017 gas tax and require voter approval for future gasoline taxes if passed, Measure G, which would sell Mission Valley stadium property to San Diego State University to allow the SDSU Board of Trustees to develop the area with a new stadium and recreational elements, and Proposition 12, which would establish a new standard for confinement of specific farm animals.
This election, many women, minorities, and LGBTQ individuals who are running in the November general election have the opportunity to make history.
Democrat Mrs. Christine Hallquist could become the first openly transgender governor in the U.S., Democrat Miss Stacey Abrams could become the first black female governor in the United States, and Democrat Miss Deb Haaland could become the first Native American woman to serve in Congress.
In addition, Democrat Mrs. Ilhan Omar or Democrat Mrs. Rashida Tlaib could become the first Muslim women in Congress, Democrat Mr. Jared Polis could become the first openly gay man elected governor in the U.S., and Democrat Miss Kyrsten Sinema could become the first openly bisexual senator.
Unbeknownst to many high school students, voting in the midterm elections makes a huge difference, and this year's election could make history.
But if students cannot vote, how can they make a difference?
By educating themselves on current issues and candidates, high school students can influence voters by starting a conversation in their high school or community, educating voters about issues, or even organizing a debate or town hall.
The upcoming election will decide the course of U.S. history for the next few years or more, and it has the power to push the government down one of two vastly different paths, according political pundits.
About the Contributor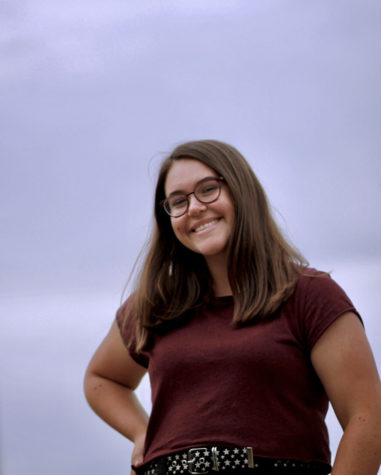 Angelina Hicks, Managing Editor
During my third school year on the El Cid staff, this time honored with the title of Managing Editor, I plan to spend every moment not only striving to...