Trump Indictment
About three weeks ago on March 31, Donald Trump was indicted on over 34 felony counts, including falsifying business records and hush money payments to Adult Film Star Stormy Daniels. Manhattan District Attorney Alvin Bragg said Trump improperly funded the payoff as a business expense.
"Why did Donald Trump repeatedly make these false statements? The evidence will show that he did so to cover up crimes relating to the 2016 election." According to the Dallas Morning News, Bragg. Alvin Bragg believes that Trump's past actions may result in him being charged and accountable by law.
This case is difficult for several reasons. First, it relies on the testimony of his ex lawyer Michael Cohen, who himself has spent time in jail related to his involvement with executing the hush money payments to Stormy Daniels. His involvement could tarnish his testimony.
Second, Stormy Daniels herself had signed a nondisclosure agreement saying she would not talk about her previous involvement with ex-president Trump. Therefore, her testimony could also be challenged and weakened.
Third, the act of making hush payments themselves may not be illegal, but it is the way the payments were made and their connection to complicated campaign fundraising laws that may be the tenuous link to illegal action for the ex-president.
So far Trump has been processed, meaning he's officially been brought in custody of the police who brought him into court. He also was present for an arraignment where the charges were read to him in an open court.
Trump has said, "we have to fight now" from the charges against him. The judge could issue a gag order to prevent Trump from speaking up about the case.
Trump also escalated his attacks on Bragg and the judicial system a few weeks before the indictment vote. Trump even went as far as to say there would be "death and destruction" if he were prosecuted.
Trump's legal team will likely go into a long period of "discovery" meaning they can review evidence prosecutors have gathered in their investigation and offer a glimpse into witness testimony. Trump could still run for president as the constitution does not disqualify potential candidates based on pending criminal charges or convictions.
Trump continues to state very clearly that he plans on running for president in the upcoming 2024 election. Trump can be quoted saying "If I do decide not to run again, I think my base is going to be very angry" in late 2021.
People might question how Trump plans on running for office as he currently faces numerous charges against him. However, politicians have been prosecuted while running for president before. During World War I, Socialist party member Eugene V. Debs spoke and advocated for resistance to the draft. This led to him being accused under 10 acts of sedition. Despite Debs' arrest, he still ran for president in the 1920 election and while he didn't win, he did receive votes from socialist party supporters while he was in jail.
Trump certainly has the opportunity to run for president and given his popularity, he could potentially receive a good number of votes eligible for running as a Republican candidate.
This indictment has granted high publicity for Trump and public reaction is mixed across the public.
"I think this is an outrage but I also think at a time when the American people are struggling so much, that this will only further serve to divide our country." Republican politicians such as Mike Pence coming to Trump's defense.
Meanwhile, Trump's online supporters have remained silent after his indictment. Politicians on the opposing political side have stated that Trump should remain silent and allow the process to move along peacefully.
"I encourage both Mr. Trump's critics and supporters to let the process proceed peacefully and according to the law." According to United States Senate Majority Leader Chuck Schumer, a Democrat.
It's clear that this indictment trial has intensified even stronger division between American people.
Trump has exaggerated the trials against him saying, "The United States of America is now a third world nation."
Trump is trying to imply that the prosecution is dragging the country down in order to deflect any blame directed towards him when in reality people are trying to hold him accountable for any laws he has broken. While this is a unique time for many Americans, it happens a lot in the world.
Since 2000, over 78 other countries have had world leaders who left office to later be jailed and prosecuted. That is nearly half of the world's countries. It's not just third world countries, but also countries such as France, Israel, and South Korea.
This is the first time in American history that a former president has ever been indicted for crimes they have committed. It is clear that American people are confused about how to respond since these are very unusual circumstances. While it is tough to deal with now, this could set a good precedent for the future and shows how none of our branches in government will be exempt for their actions despite their high position.
Description of indictment
Upcoming steps
Trump's desire to still run for office
Public reaction to indictments within GOP and broadly
Historic for US but happens frequently in other countries
Leave a Comment
About the Contributor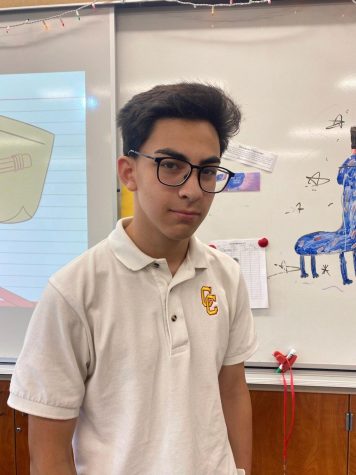 Massimo Rigoli, Staffer
Massimo has always been very interested in journalism. He's always loved sharing about what he's passionate about. He loves to communicate his love...