LA Teachers Union Strike
Los Angeles Unified School District teachers organized a strike in the second largest school district in the nation. The success of the union's new agreement has been eclipsed by many criticisms of how workers went about striking.
The changes union members fought for are not unjustified. The new agreement includes a 30% wage increase given to the around 30,000 Los Angeles Union School District (LAUSD) teachers, bus drivers, and faculty. Objectively, teachers around the country are underpaid and underappreciated for a job that builds the foundation for the future of the economy. But the way teachers went about striking is what caused a devastating ripple effect, for better or worse.
The spontaneity and intensity of the strike was a driving force in getting LA to actually hear their demands, but it also put pressure on students and even their families. It is well known that many students not only in the LAUSD, but especially because of its size, rely on meals given to them at school to get through the week. Telling students that they will not be able to eat the breakfast and lunch provided at school that their family has begun to financially rely on sent shockwaves through the community.
Additionally, parents of students in the LAUSD who have grueling day jobs and in some cases multiple jobs, do not have the ability to call out of work for three days to take care of their children because of a strike. Aside from being crucial academically, in younger grades school acts as childcare for parents who cannot afford or do not have the time to pick up and take care of their children.
When faced with these arguments many teachers have wholeheartedly explained that this strike was for the future of all students.
"I feel sad that we have to go through this because we're missing our kids, but we're doing this for our I feel that we deserve a little bit more. It's not all about the money" says a teacher's aide who participated in the strike.
Teachers feared that without sudden intense action nothing would be done for the betterment of their schools and salaries and funds would continue to dwindle. Many members have described the pressure they felt to strike, not only for their own livelihoods but for the future of education. Without well paid teachers, the craft of teaching would continue to be lost as motivation for continuing to help learning would disappear.
This is understandable, taking pay away from a worker in any field would lead them to feel less motivated in their career. Are teachers supposed to not feel this loss of motivation solely because they are doing something they know must be done?
It could be argued that the struggle many students would face as a result of the strike was used by the LAUSD as leverage to get LA to listen to them. The pressure of thousands of students being without food, childcare, and school definitely wore down on the city and made decision-makers follow through with the union's demands quicker than if that pressure did not exist. Along with tension outside the district's headquarters where hundreds of rain-soaked workers rallied, this pressure is what led the city to actually listen to teachers' complaints.
"I'm going to be here, rain or shine. This is historic", said one faculty member participating in the rally.
The historic quality of this strike's events and eventual success has been noted by many as a turning point in protests within the education world. Other districts have been left fearing the spread of these new demands, and other unions will have to take notes as to how they will be able to make the change LAUSD has. But as these movements spread, one could wonder, what is going to happen to students and families dealing with the problems mentioned earlier in other districts?
Facing days out of school seems to be an issue many more students will have to face as strikes pop up. As mentioned earlier, the guilt teachers feel for essentially kicking the students they care so much about to the curb will weigh down on them. But with no other method of rallying creating actual fixes, it can be assumed that many other unions will have to employ the same methods LAUSD has. Just like learning, struggle and pain in the moment can only lead to better things in the future.
Leave a Comment
About the Contributor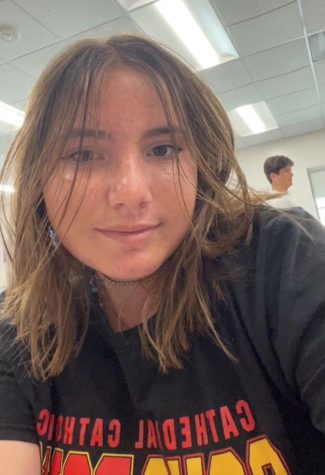 Lucy Miller, Staffer
Lucy Miller is a sophomore attending Cathedral Catholic high school. In her first year working at El Cid Online, she would like to spend time learning...