Devastating Michigan State University Shooting
Even in 2023, our country is still facing a number of mass shootings. There have been more mass shootings in 2023 at this point in any year since 2013.
"As of mid-February, the Gun Violence Archive has counted 80 mass shootings in the United States this year. Seven of them involved four or more fatalities", New York Times journalist Daniel Victor said.
Twelve of the shootings this year have been school shootings, according to a CNN tally. The shooting at Michigan State University (MSU) was the first university shooting this year.
During the night of February 13th, three college students were killed and five were critically injured in a mass shooting at MSU. Where over 19,000 students live, the gunman opened fire at two campus locations.
Students were forced to jump out of windows and run for their lives. Claire Papoulias, a MSU student, was in history class when all of a sudden, she heard gunshots directly behind her.
"The shooter opened the back classroom door and started firing at my classmates in the back, wounding them. I smelled and saw the gunpowder", Papoulias said.
Innocent students just like Papoulias thought they were going to lose their lives during this terrible situation.
Papoulias added, "When the gunman stepped out of the classroom some students bravely smashed a window and helped others jump out of the first-floor classroom. There was a boy on the other side of the window catching people who were jumping out the window. He stood there and risked his life to catch people".
With only one way to escape, students had to work together in order to find another exit, out of harm's way.
When Papoulias jumped out the window, she stated, "my feet hit the ground running. I forgot everything I owned because that didn't matter. I was focused on making it out alive. I jumped out the window and I ran as fast as I could".
The 43-year-old suspect had no affiliation with the school. The suspect died from a self-inflicted gunshot wound, authorities said.
While MSU students grieved over the loss of those who lost their lives, investigators are still working on figuring out what caused the suspect to conduct this act of violence.
"We have no idea why he came to campus to do this," said MSU Deputy Police Chief Chris Rozman. Since the motive of the shooter is unknown, investigators are working to find answers.
In this ongoing investigation, police said they are actively reviewing and finalizing the gunman's route on campus. Until more information is released, we don't really have an exact answer as to why Anthony McRae did this.
"As a representative of Oxford, Michigan, I cannot believe that I'm here doing this 15 months later, and I am filled with rage that we have another press conference to talk about our children being killed in their schools," US Rep. Elisa Slotkin stated during a news conference. "There are children in Michigan who are living through their second school shooting in under a year and a half. If it's not a wake-up call to do something, I don't know what is".
Scared students were forced to hide and seek safety as hundreds of officers swarmed the school.
As word of the mass shooting spread, MSU's president, Teresa Woodruff stated, "anxiety permeated the campus as the Gunman remained at large. A shelter-in-place order went into effect. One of the things I'm most proud of us is, on a campus this size, how quickly every student, staff, faculty member immediately took action. They sheltered in place, and they did so for hours".
Many students watched the situation unfold as police cars swarmed the area. Dorm mates did a shelter in place by barricading the door in case the shooter tried to get inside.
With no idea why the gunman attacked the campus and took the lives of three innocent students, it makes this situation scary especially for everyone on the MSU campus.
On February 14th, United States President Joe Biden released a statement on the shooting at Michigan State.
Biden stated that he affirmed Governor Whitmer that they would "continue to improve the resources and support needed in the weeks ahead", he added, "too many American communities have been devastated by gun violence. I have taken action to combat this epidemic in America, including a historic number of executive actions and the first significant gun safety law in nearly 30 years, but we must do more".
Biden assured that what he said in his State of the Union address the prior week, is going to take action.
He continued by saying, "Congress must do something and enact common sense gun law reforms, including requiring background checks on all gun sales, banning assault weapons and high-capacity magazines, closing loopholes in our background check system, requiring safe storage of guns, and eliminating immunity for gun manufacturers who knowingly put weapons on our streets".
Biden's plan of enforcing more gun laws and protocols is a great start to limiting the amount of gun violence in our country. Because Congress has the ability to enact these laws, they sh0uld prioritize putting Biden's plan into action.
"Action is what we owe to those grieving today in Michigan and across America" Biden said.
After classes open back up, and students return back to classes, these students could still have a fear of a possible attack occurring on campus again.
Having to run and hide on a school campus should not be normalized. Schools are a place where students come to learn, there should be no more violent acts on campuses.
This shooting has enough impact to affect current seniors who were accepted at MSU and were considering to commit, and current juniors who are wanting to apply at this school, here at Cathedral Catholic High School, as well as other high schools in America.
According to a survey created for Cathedral students, juniors were asked if they have considered applying to MSU, 78.4% said no, 21.6% said yes. If current juniors have considered applying to MSU, 66.7% said the recent shooting did not affect their decision, and 33.3% said it did.
When current seniors were asked if they have applied, been accepted, or are committed at MSU, and if the recent shooting affected their decision to attend the school, 79.2% said no and 20.8% said yes.
Because of the frequent shootings occurring in schools across the United States, many students do not feel safe on their campuses. If someone is struggling with mental health, they should prioritize their wellbeing and not feel that violence is the answer.
Our influences in the media, video games, tv shows or movies feed into many peoples heads, leading them to making terrible decisions, even going as far to hurt someone, or many people.
Now, school employees have to be taught what to do if there is an active shooter. Students ranging from elementary schools to universities fear for their safety and the possibility of an armed shooter getting on campus.
As a country, we need to put more effort into enforcing stricter gun laws and helping those with mental health issues. Change needs to be made in order to end shootings not only in schools, but in other public areas throughout our country.
Leave a Comment
About the Contributor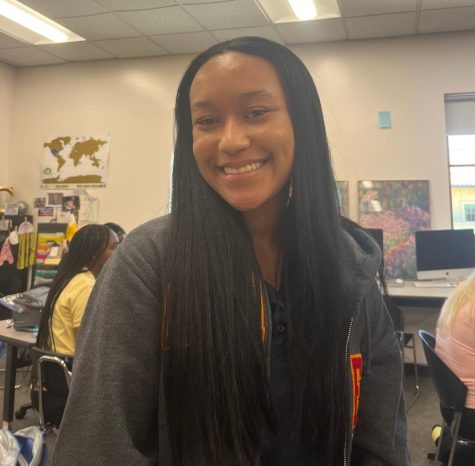 Carissa Vanzant-Thomas, Columns Editor
Hi! I'm Carissa Vanzant-Thomas, and I'm passionate about wellness and mental health. As the lead editor of the wellness column, I have learned many...