Lack of lockdown drills
Recently administration has been focused on completing fire drills, while the threat of a fire is a serious one. The lack of active shooter drills is appalling when school shootings are occurring in America almost once a month. Although students are stipulating that the fire drills are actually lock drills. If the fire drills are lock down drills why is the administration not telling they are actually lock down drills.
Are they trying to protect us by not instructing us on how to react during drills? That seems counterproductive, as most students know from the news the danger of school shootings. What we don't know is what to do in the event of a school shooting. As the number of school shootings across the country increases it's time for the cathedral to take action and prepare our students. Many sources recommend that teachers make the announcements for a lockdown directly instead of trying to come up with code words. They also advise to direct all students into a locked classroom and bring the students away from windows and doors. Lastly it is important to take attendance and to not respond until announcements are made to ensure that the intruder has left the school.
Below is a sample list of supplies recommended in case of a lock down drill
first aid kit
Emergency thermal blanket
Sanitary towelettes
Hand sanitizer
Emergency water pouches
Whistle with lanyard
AM/FM radio with extra batteries
Flashlight with extra batteries
Researchers also recommended investing in a gunshot wound kit to be present in case of an emergency. While investigating Cathedrals preparedness in the event of a shooting I asked teachers what emergency supplies they had in their classrooms. "I have a bucket to use the restroom, and a case of water." In my opinion this lack of supplies is appalling and not surprising in the least due to our lack of lock down drills this year. I have had more drills my freshman and sophomore years than my junior and senior years, while the threat of school shootings gets worse.
About a month ago we had a power outage at CCHS. During this outage I felt my classroom was severely unprepared. My teacher tried to turn on their computer in order to get in touch with the administration to find out what was happening. We were literally and figuratively in the dark and did not know if there was a threat on campus that was causing the outage.
In my opinion in the event of a lock down I have no idea what I would do in any of my classes. Now that I am a senior this is not a pressing issue for me. But I fear for the underclass men at Cathedral as I believe they are severely unprepared for what they would do in case an intruder was on campus.
Leave a Comment
About the Contributor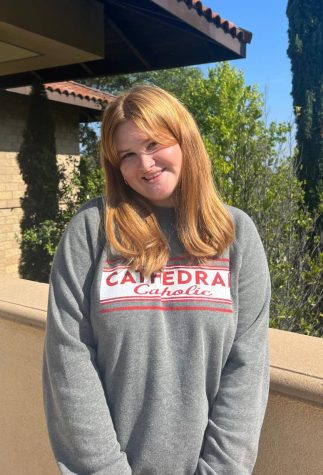 Julianne Cox, Staffer
What makes Julianne Cox unique? Her passion for journalism. This is her second year as a journalist, even though it has been in her DNA her whole life!...