New Clubs at CCHS
With club week inching closer, most established clubs are preparing to pull their fold-up tables and posters out of the closet and head for the knoll like they have for many years. But alongside them are fledgling clubs that are just trying to get their ideas off the ground and find members eager to provide support.
Among these young groups is the Empowering Kids Worldwide (EKW) Club. Founder Victoria Zwichorowski's '25 goal is to communicate not often heard stories to little ones, and with the help of club moderator Ms. Fiore and prospective members, the club will be able to do just that. By reaching kids through accessible media like children's books, this goal is within reach.
"If someone's from a less fortunate community and they really want to be a surgeon we're trying to inspire them that they can do it. Just because they don't have many resources doesn't mean they can't do something" says founder Victoria. Zwichorowski believes that representation means so much more to kids than publishers realize.
In the club's first year of writing she says,"I would like to find a hospital we could work with and meet a good group of kids there so we can get to know them and write some books for them." Starting small with kids in the San Diego community could help club members figure out the best way to go about their goals.
But before any of these plans are put into motion, the club is planning on building a solid foundation.
"We love this idea of collaborating between artistic students, students with strong ideas, and then the students who are great writers all coming together on a project," says Ms. Fiore in reference to what kinds of new members they are seeking. Input from any and all kinds of students would help creativity and heart shine through in what EKW plans to create.
Leave a Comment
About the Contributor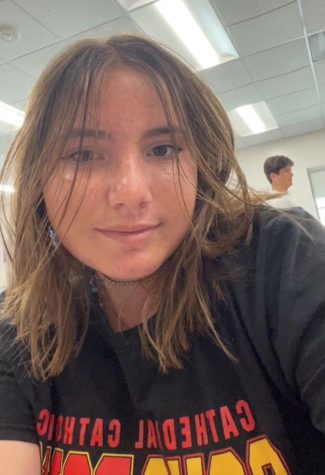 Lucy Miller, Staffer
Lucy Miller is a sophomore attending Cathedral Catholic high school. In her first year working at El Cid Online, she would like to spend time learning...