Freshmen stand tall with God at retreat
During a time when society pressures teens to conform to accepted, sometimes deviant, norms, freshmen at Cathedral Catholic High School struggle to find their identities without succumbing to fears of judgement by their peers.
"I don't always feel like I can express my faith without being afraid of being judged," Matthew Kirven '20 said. "But in an environment like Cathedral, it's easier to do that, and I find myself being more comfortable in a Catholic environment."
The goal of the recent Freshman Retreat was to help freshmen like Kirven cope with the struggle of expressing their Catholic faith as teens in a secular world.
The new CCHS class of 2020 was invited to leave societal stereotypes and pressures behind in order to embrace their faith lives. The students also learned how to share their personal gifts and feel comfortable with who they are outside of a Catholic environment like CCHS.
The jump from middle school to high school is a time when teens start to find their identities. In order to combat the insecurities and fear of judgment that expressing one's faith entails, retreat leaders aimed to help the freshmen on their journeys to self discovery.
"I think that, especially as a freshman, it's hard to be involved in your faith when everyone around you is so focused on things that don't have to do with God," Retreat Leader Mary Devany '17 said. "It's easy to get distracted and stray away from God and forget about Him when all you're trying to do is fit in."
In order to help freshmen discover themselves through a relationship with God, senior retreat leaders encouraged the underclassmen to share their struggles with identity, reassuring them that being themselves is the best way to find happiness.
Many of the freshmen discussed the personal issues they face daily and how they learned to cope with them.
"Retreat helped me grow as a person because it showed me not to care as much about what people thought of me," Bradley Allgood '20 said. "If I use the gifts I was given, I am doing what I was meant to do and being who I am supposed to be, and nobody can change that."
Allgood is one of many freshman who was inspired by the message of freshman retreat. Determined to share his gifts and knowledge with future CCHS underclassmen, he expressed a desire to become a retreat leader in the future.
"Freshman retreat was designed to help ease the transition between 8th grade and freshman year while also helping the freshman class break the ice between societal barriers and their faith lives," Devany said.
With the guidance of senior retreat leaders and resources on campus, including XLT nights, daily mass, and youth formation groups, freshman express themselves in an environment welcoming toward their faith.
At the end of the retreat dedicated to embracing their gifts, the freshmen departed the Guadalupe Theater with new perspectives regarding themselves and the way they express their faith.
Senior retreat leaders shared previous struggles with their faith toward the closing of the retreat, offering advice to the freshman class. The seniors aimed to leave the freshman with a powerful message from someone who had walked in their shoes only a few years ago.
"Don't wait to be yourself until you're an upperclassman," retreat leader Montanna Kirven '17 said. "Be yourself right now, and be yourself. Why wait?"
About the Contributors
Katelyn Gueco, Assistant Spiritual Life Editor
As a senior at Cathedral Catholic High School and assistant Spiritual Life Editor for El Cid, I strive to leave a legacy of happiness and fulfillment through...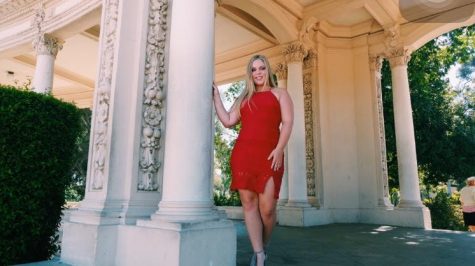 Sydney Calhoun, Managing Editor
As a result of my whimsical spirit, booking flights on American Airlines has become a hobby and picking up the monthly copy of VOGUE is routine. Aside...