Serving the face of Jesus
CCHS student aids refugees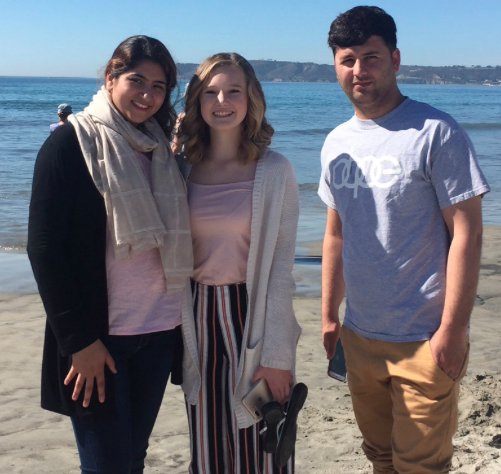 Hang on for a minute...we're trying to find some more stories you might like.
When Cathedral Catholic High School student Molly Abrom '21 first visited a Middle Eastern refugee family of 10 living in a sparsely furnished and dilapidated two-bedroom apartment in San Diego county, she knew she was called to make a difference.
"[The refugees] have no money, so they depend on donations for blankets, beds, school supplies, cooking supplies, and more," Abrom said. "It's just such a surprise when you see that they are given practically nothing when they arrive in a new country."
The apartment contained little furniture, food, and belongings, and common comforts such as a TV and air conditioning were nowhere to be seen.
Abrom and her family make their mark on San Diego county by collecting and distributing donations weekly for refugees who have relocated recently to El Cajon or City Heights from the Middle East and Africa.
Mrs. Peggy Abrom, Molly's mother who introduced her family to refugee volunteer work, first got involved via a Facebook group called Helping El Cajon Refugees.
"There was so much in the news about the global refugee crisis," Mrs. Abrom said. "Our family was looking for a way to help short of hopping on a plane and going to refugee camps. We found out that many refugees have arrived in San Diego throughout the past couple years."
Within this Facebook group, Abrom and her family gather donations such as furnishings, clothing, and supplies that they distribute to refugee families.
"My favorite part about volunteering is that I get to learn a lot about [refugee families'] culture and their stories about how they ended up in the United States," Abrom said.
In order to better acclimate refugee families to their new life, Abrom and her family also take the refugees on outings around San Diego and help them learn English language.
Many Americans harbor misconceptions about what a refugee is and why they relocate to other countries, Abrom said.
According to the Jewish Family Services, a refugee is someone who flees his or her homeland and cannot return because of persecution based on religion, race, nationality, political opinion, or membership in a particular social group. There were 19.5 million refugees worldwide at the end of 2014, and more than half of all refugees in the world are children.
"We need to do our best to be welcoming in our community, and it's important for all Americans to be welcoming to other people who are in danger and needing to escape," Abrom said.
San Diego County has received more refugees than any other county in California for the last seven years in a row, according to the Jewish Family Services. The Abrom family stresses the importance of helping out neighbors in Christ.
"We are called in our Christian faith to help the poorest among us," Mrs. Abrom said. "Through luck of birth we live in a safe country, with a high standard of living, and every opportunity.
"We feel called to help those that haven't been as fortunate."
As a leader of Helping El Cajon Refugees, Mrs. Katherine Cavallo, the music minister of St. Gregory the Great Catholic Church, the Abrom's parish, has helped more than 700 refugees.
"I imagine often what it would be like to lose everything I know and love and to flee on foot to a neighboring country and beg them to help me," Mrs. Cavallo said. "To have a country that is foreign to me open their doors and welcome me in and then to arrive and be sleeping on hardwood floor unsure of where to start would be incredibly difficult.
"I would hope that kind people would welcome me and show me the way, and that's what I hope to do for the refugees who arrive here."
The Abrom family and Mrs. Cavallo's work not only aids the refugees with their physical needs, but it also helps them emotionally adjust to their new lives.
"When I arrive, I'm often the first American that is there for them to help navigate changes around them, and that is vital," Mrs. Cavallo said.
The incredible stories each refugee family shares of the trials they faced to relocate in the safety of San Diego have made a lasting impact on Abrom, her family, and Mrs. Cavallo.
Mrs. Abrom recounts one story in which she helped a family with eight small children who had just made the journey across the globe from Afghanistan. The family had been cooped up in tight quarters, and the children were eager to play, so the Abroms took them all to the beach.
"The image of that hasn't left me," Mrs Abrom said. "It was the first time they had seen the ocean. They squealed with delight. Children break all language and cultural barriers."
The Abroms and Mrs. Cavallo encourage local San Diegans, no matter what age, to help the refugee families still facing tremendous challenges today.
"Embrace the awkward and just do it," Mrs. Cavallo said. "It absolutely will be uncomfortable and weird and possibly even scary at first, but so much of life is, and we can only grow and create memorable experiences by putting ourselves out there."
Making donations to resettlement agencies in San Diego, volunteering to bring supplies such as clothes or toys to a family, or simply raising awareness among the community about the issue can help, as described in detail on the Jewish Family Services website.
"It seems pretty clear that I am to welcome the strangers and then take care of their basic needs," Mrs. Cavallo said. "When I look at these refugees, I am seeing Jesus."

About the Contributors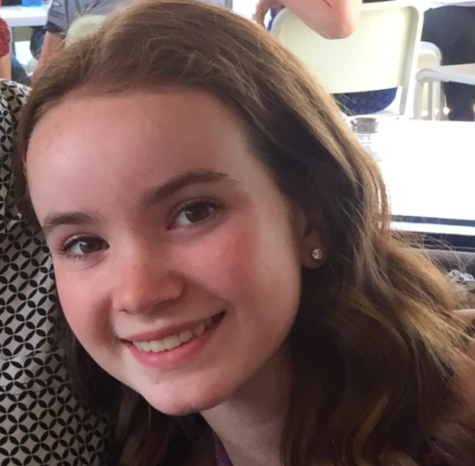 Ella Wishchuk, Assistant Spiritual Life Editor
As a sophomore at Cathedral Catholic High School, I look forward to blossoming as a young journalist and becoming a new member of the El Cid team. I consider...