Faith at the forefront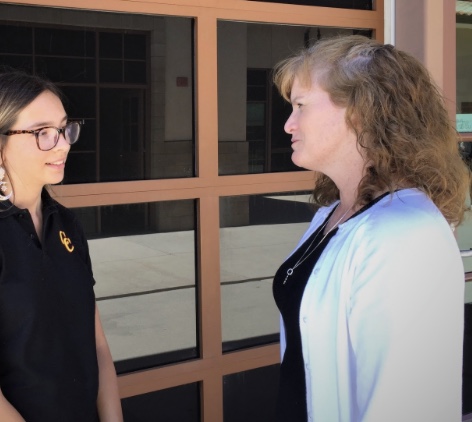 Mrs. Stacy Wells joined the Cathedral Catholic High School community recently as the new Dean of Mission and Ministry, replacing former dean Mrs. Alison Purpera, who now teaches at the Academy of Our Lady of Peace.
Mrs. Wells hopes to bring a new spirit of faith to CCHS.
"The administration has been very welcoming, and the team is really great," Mrs. Wells said. "They've been taking me under their wing and showing me the ropes, and my assistant deans have been helping with making sure that all the amazing programs we have in place here are going forward."
For Mrs. Wells, a Washington native and cradle Catholic, acting as the Dean of Mission and Ministry enables her faith to remain her life's focus.
Starting in high school, Mrs. Wells began to connect with her faith on a more personal level. She worked with her confirmation group as a youth leader, then plunged deeper into her faith during college, participating at a local Newman Center.
Once out of school, Mrs. Wells pursued both volunteer and career options connected to her faith and the Church, even teaching Eucharistic preparation classes to second graders. In Washington, she became involved in the Rite of Christian Initiation of Adults program at her parish.
Mrs. Wells also belonged to the diversity committee at the Forest Ridge School of the Sacred Heart, establishing the service committee and organizing other activities similar to the faith-based events conducted at CCHS.
Before moving to San Diego, Mrs. Wells taught at and served as the director of service and the religion department at Forest Ridge School of the Sacred Heart. During her tenure, she performed and oversaw similar tasks to those jobs she will undertake as the new dean of mission and ministry at CCHS.
Mrs. Wells looks forward to attending religious retreats and taking part in service trips with students.
According to Mrs. Wells, the department of mission and ministry introduced one notable change this year.
Rather than having students sit with their first morning class for all-school Mass, students will sit with their Red 1 class all year long. After attendance for the first morning class, students must walk over to the gym with and sit with their Red 1 teacher.
"It's a little bit easier," Mrs. Wells said. "You'll go to the same place all year long for Mass."
The faith-based theme that students are called to focus on this year is homelessness. Despite being a continuation of the see, judge, and act message delivered through the theme last year, Mrs. Wells explained students need to delve a bit deeper into judging a situation.
"The connection students have with their peers and with God foretells the investment a student has in their community and with homelessness in particular," Mrs. Wells said.
Numerous religious retreats and service trips are planned for this upcoming year as the department of mission and Ministry looks to create new service opportunities and extracurricular activities outside of the school day.
"We are going to Los Angeles to work with homeless and visit Homeboy Industries there," Assistant Dean of Mission and Ministry Mr. Nicholas Hurt said. "It's always a fun trip visiting Homeboy Industries and powerful and working with homeless is also equally powerful."
Mrs. Wells's believes her qualifications and commitment to her faith will help her execute her job to the benefit of the students and voiced her excitement for the years to come.
"I am able to help with all the things that's done in mission and ministry and still have it be effective and welcoming," Mrs. Wells said. "It's been really phenomenal."