Learning before serving
CCHS students visit Tijuana shelter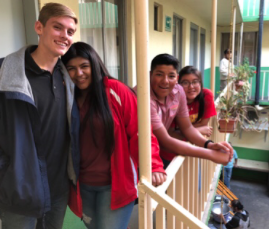 In an effort to learn about immigration issues and other struggles from south of the border, four Cathedral Catholic High School underclassmen recently visited Casa Del Migrante, a shelter for migrant men in Tijuana, where they heard stories of people in the shelter and watched good works demonstrated.
"It was an immersion experience where we learned of what they do and their goals and the most powerful part of hearing the stories of the guys staying there," said Mr. Nicholas Hurt, a CCHS religious studies teacher and assistant dean of mission and ministry.
Students involved in the experience spoke with the men staying at the shelter. Of the many discussions, there was one that will remain unforgettable in the mind of Omar Mendiburo '21, a CCHS student who attended the trip.
"An experience that will remain memorable forever is when I talked to a deported man who moved to Los Angeles when he was two," Mendiburo said. "He was deported seven months ago, and he's been a volunteer at La Casa Del Migrante since. This situation taught me that all opportunities that are given to you should not be taken for granted."
Due to prom taking place the same weekend as the trip, along with CCHS attempting to involve underclassmen in more communal service trips, the trip was only offered to freshmen and sophomores, Mr. Hurt said.
The learning experience was the center of the trip and many lessons were gained.
"The students learned about immigration and how a lot of migrants flock to Tijuana due to its close port of entry to the United States," Mr. Hurt said. "We got to see the shelter taking a neutral stance, and whatever someone needed help with, [people at the shelter] would provide the help."
Casa Del Migrante believes in being more than simply a place to sleep and eat, but it also supports the present necessities while investing in each migrant by attempting to create a more comfortable future for them.
Casa Del Migrante's goal is "to provide migrants with adequate and proper attention so that they can improve their living conditions; to safeguard and promote their rights; and to provide them with comprehensive support so that they can successfully reintegrate into society, or safely continue with their migration plans, depending on their objectives," according to the organization's website.
The students who attended the trip acquired an intense passion for the issues facing immigrants, and their passion likely will spur another trip, according to Luke Meyers '20.
"I would totally recommend the trip because it was really fun to spend the time growing closer to my friends and also learn and build the connections [with immigrants]," Meyers said. "The people there were so kind, and it really made me passionate to try and help their cause and try and help all immigrants."
Although this trip is the first of its kind, it will not be the last, according to Mr. Hurt.
"We do hope to make this a trip we take more and stay longer," Mr. Hurt said. "In the future we could possibly stay in the shelter over night while working and visiting other areas in Tijuana."
The unique angle of students focusing on learning during the trip rather than serving is another piece of the trip that is likely to be repeated in other circumstances.
"It was really cool," Meyers said. "I really liked making the connections, and I think that's just as important as doing work for someone. Maybe we weren't working hard to serve, but we still were able to help them because of people having physical and emotional needs. It's great to go and…share what you learned with others and in the long term bring more people and awareness to the issues they're facing.
"The learning was so powerful."
Ultimately, Mr. Hurt sees the big picture of the trip and the importance of the recent success of this first experience.
"This trip was like John Glenn first getting into space," Mr. Hurt said. "He didn't really go anywhere in space, but he got there, and they progressed from there."