Retreats build the kingdom and friendships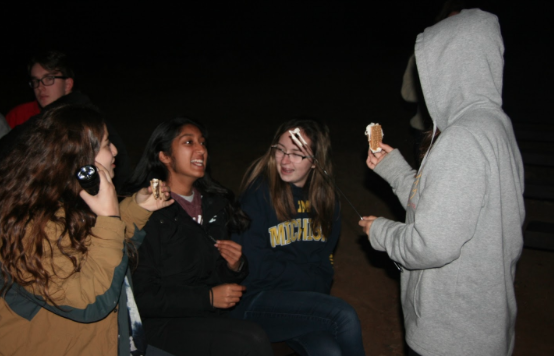 Cathedral Catholic High School student Nicole Kharat '19 had no idea what to expect when she signed up for the January Junior Retreat since details of off-campus retreats are not shared school-wide.
"I did not know what to expect [at retreat]," Kharat said. "I was pleasantly surprised. I feel that I not only grew closer to God, but also to my classmates."
In order to deepen their faith lives and grow closer as a community, 93 juniors, 26 senior leaders from Mr. Jeff Gramme's Campus Ministry 12 class, and six adult chaperones departed last Wednesday on retreat to Whispering Winds Catholic Camp and Conference Center in Julian, California.
During three days and two nights, the juniors participated in a senior-run retreat consisting of small-group faith-building activities, multiple faith talks, adoration, and mass, all of which focused on the theme "Build the Kingdom."
"The main focus of Junior Retreat is what it means to be a Catholic christian and to build your faith with new people," Mr. Gramme said.
Seniors Kiki Carney, Makena Diehl, Sophia Izzo, Carson Linxwiler, Jonathan Dianda, Justin Clement, and Isabella Mattera opened up about their faith lives to juniors during the spiritual encounter.
Carney gave the send-off talk about her own personal faith journey and the obstacles she faces, as well as the benefits that come with letting the light of Christ into one's life.
"My advice for people looking to go on retreat is that you should definitely take advantage of the opportunity regardless of where you are in your life right now," Carney said. "My advice to follow that up would be to then go on retreat with an open heart and an open mind because you never know what experience you could have."
Specific details about the retreat activities can not be given due to needed secrecy for future retreats, Mr. Gramme said.
Juniors returned from the retreat feeling ecstatic and closer to their peers as expressed in many social media posts.
"Before retreat, I felt as if the classmates I hadn't met were only labels, and coming together on this retreat helped all of us grow together and find out that we share so many of the same struggles in our lives," CCHS student Mikaela Adams '19 said.
A benefit that off-campus retreats have is the change of scenery and every day routine the freshman and sophomore retreats do not offer.
"The outdoors and the feeling of leaving stress behind helps the students to focus on building their relationships with one another and with God," Administrative Assistant of Mission and Ministry Mrs. Mallory Sigmon said.
CCHS also offers an off-campus retreat for seniors, entitled the Kairos retreats, which offer a more structured way of retreating. Practiced throughout the U.S., Kairos retreats focus on a scripture or story to focus talks and activities.
CCHS students have attended Oakbridge Young Life Camp and Palomar Christian Conference Center, and as opposed to only three junior retreats, five Kairos retreats are offered at CCHS.
"I feel that another difference [besides the structure] between Junior Retreat and Kairos retreat is the fact that Junior Retreat is run by seniors, which gives the juniors a glimpse at their near future," religious studies teacher Mrs. Sandy Blackstone-Gardener said. "On the other hand, the teachers help run Kairos, which gives the seniors a look into their college and adult life."
Kharat, for one, appreciates the opportunity.
"[Junior] retreat is something that you do not want to miss," Kharat said.