The Weekender: Exploring San Diego in Hillcrest / Bankers Hill
Hang on for a minute...we're trying to find some more stories you might like.
Hillcrest, known for its unique blend of historical significance with trendy elements of the neighborhood, is a hidden gem within San Diego county. 
As a young adult, I continue to explore Hillcrest, where I grew up as a little girl, often visiting my grandparents' house near Bankers Hill. Beyond serving San Diego as a popular neighborhood to live in, the area offers a diverse array of eateries and a multitude of historical landmarks.
Through my slideshow of the neat places around Hillcrest and Bankers Hill, you can discover some of the unique treasures hidden within San Diego County, such as:
•Snooze on 5th Avenue, a popular morning eatery (which does not take reservations for a future note, so expect a wait!)
•Quince Street Footbridge
•First Avenue Bridge: dedicated in 1911
•Little Free Libraries around the area: the concept welcomes neighbors and people passing by to take a book from the case and return one of their own in exchange
•Spruce Street Suspension Footbridge: dedicated in 1912
•Vermont Street Pedestrian Bridge: rededicated in 1994, the many definitions of "bridge" were stamped into the concrete walkway and the artwork displayed on the rails, which has a central motif of walking, was done by a group of women artists known as Stone Paper Scissors
•Pinkberry, a refreshing place to stop by for frozen yogurt

About the Writer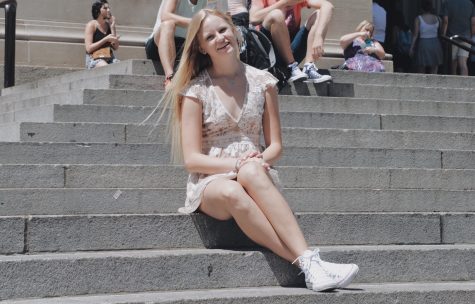 Kelsey Bacinett, Editor-in-Chief
Returning to El Cid for the third year, I am thrilled to serve as Editor-in-Chief! I love writing and photography and cannot wait to see where my talents...