Mrs. Wells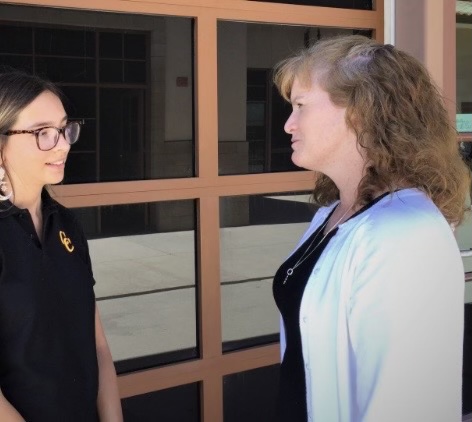 Mrs. Stacy Wells has been an integral part of our community for all her time here. For us seniors, she has been here our entire high school careers.
Not only is she always a pleasant face on campus and a pleasure to interact with, but she is highly qualified.
She has her Masters in Ministry; Bachelor of Arts, Political Science-History and Economics. She obtained these degrees at the great Loyola University-New Orleans and Arizona State University.
If you were to ask anyone involved with all school liturgies, or anything mission and ministry related, to name one person who makes it all go smoothly; it would be Mrs. Wells.
Mrs. Wells is one of our greatest faculty members at school due to her pure dedication for the program. Not only is she an amazing member and builder of our community, she is also a parent. Her daughter Maryel is graduating this year with the rest of the 2023 class.
Being a parent of a student here allows Mrs. Wells to have great insight on the lives of our student body. She is always respectful and courteous and understanding of what we are going through.
She is our Dean of Mission and Ministry, a job that carries a lot of weight and is often thankless. If you've ever gone to mass here, and enjoyed your time, Mrs. Wells is to thank. If you've ever gone on a service trip, or a junior retreat, or Kairos retreat. Mrs. Wells is to thank. Mrs. Wells is so humble in her work that when she speaks at the end of mass, she thanks every single group and person that made that mass possible. She is a believer in teamwork and community which provides nothing but success in her M&M program.
Us here at El Cid are not the only ones who recognize Mrs. Wells care for our community. Our amazing ASB teacher Mrs. Rhodes had this to say about Mrs. Wells, "Stacy Wells has been an integral part of holding this community together through COVID and big losses the last few years. Her big heart and deep care for our students and staff is reflected in the hundreds of ways she brings faith, kindness and Christ's love to our Dons community."
Mrs. Wells has provided an extensive amount of her time to our faith community here at cathedral with morning masses. Many students enjoy morning mass and come many times. Morning mass provides a great opportunity to connect with God before you start your day.
After the passing of our peer Connor White in 2021, Mrs. Wells gathered our community during lunch one afternoon and held a prayer service. This shows the extent to which Mrs. Wells leads this community.
Leave a Comment