Inside the Yearbook Class
This week is National Yearbook Week but what is national yearbook week? National Yearbook week started in 1987 and was declared by President Ronald Reagan as a way to say thank you for all the work yearbook staffs put into creating their yearbooks. The week is also an important way to highlight the yearbook as it preserves memories and traditions for generations to come. National Yearbook Week provides schools the opportunity to recognize the role a yearbook has in documenting school tradition. National Yearbook Week is not just for the yearbook staffers, it's for the whole school to celebrate such an important piece of their school year.
The yearbook is an essential part of our time at Cathedral Catholic High School. It is a history book we can share with our future children and look back on for years to come. It is also important to Assistant Director of Alumni Ms. Anne Major who says, "During alumni reunions the yearbooks are a focal point as they are displayed. Alumni have so much fun reminiscing about the teachers they had and the classmates they shared memories with."
Inside the Cathedral Catholic High School yearbook class, students work hard everyday to design spreads, interview our Dons community and write articles that will be representative of our history for years to come. This year, the yearbook team has a staff of 40, several of them being freshman, who are excited to start documenting their time at Cathedral. Freshman Ruth Herman reports, "at my old school we didn't have the opportunity to take yearbook class so I wanted to participate in making the yearbook special!" The yearbook editors hope to help the freshman achieve their goals of making a great book everyone can be proud of.
The design of the yearbook sets the tone for the whole book. This year, the staff has two design editors that are committed to creating the best yearbook design possible. Talia Cortese '23 explains, "I love being a leader on yearbook because I think creativity is essential in collaborating and creating a beautiful yearbook." The design editors work very hard to ensure the yearbook establishes a connection to our school's community through the yearbook's overarching theme.
Overall, our yearbook is a substantial part of our Cathedral community history. It should be celebrated and appreciated. Through the yearbook we can remember school events, athletic achievements, spiritual celebrations and trends from each year. Next year, make sure to celebrate National Yearbook Week with the next group of staffers!
Leave a Comment
About the Contributor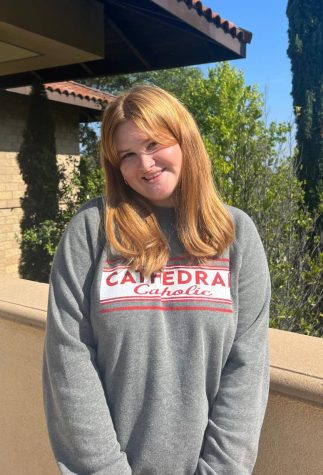 Julianne Cox, Staffer
What makes Julianne Cox unique? Her passion for journalism. This is her second year as a journalist, even though it has been in her DNA her whole life!...