Stressed to Be the Best
As the school year begins, high school students across the country are starting their AP, Honors, and Dual Enrollment classes. All these classes are intended for high caliber students; however, when do these classes become too much?
Cathedral Catholic students are piling weighted class over weighted class to achieve the coveted 5.0 GPA, deemed as perfection. Surely a GPA that high would ensure the student's acceptance into the top schools in the country… but many students are learning that is not the case.
AP classes were intended for students to advance in subjects they were passionate about, but now students are expected to take all the AP classes available to even be considered for admission to top colleges.
The rise of students taking excessive AP courses is taking an extreme toll on mental health. Cathedral Catholic students share their opinions on academic stress and how it affects their mental health:
Frank Sciarrino, a junior at CCHS, is currently taking five weighted classes. In order to stay organized, Sciarrino explains that he keeps all his work organized in a planner so he doesn't fall behind in any classes.
While taking five weighted classes and having nearly three hours of homework each night, Sciarrino is under constant stress.
"I think academic stress is a big problem, especially the homework load. Over the years it has escalated so now more than ever it's important for me to manage my stress," Sciarrino says.
In order to manage stress, Sciarrino says, "I make sure to time manage for any projects or tests so I'm never waiting for the last moment to get something done."
Another Cathedral Catholic student who shared her experience with academic stress is junior Alexandria Peña. Peña is also taking 5 AP classes. In addition to difficult classes, she also must balance two varsity sports. With this stressful schedule, Peña takes many steps to tend to her mental health.
"I meditate in the mornings for five minutes, I also take art classes which allows me to have time to destress, to just talk with my friends while drawing and painting," Peña says.
Teachers at Cathedral are also working to help students manage their academic stress. Dr. Williams, an English teacher who teaches AP Literature and AP Language and Composition, shares her thoughts on academic stress.
"Currently our students are facing unprecedented levels of academic stress, and we need to have a balance between learning the academic materials and protecting the mental health of our students," Dr. Williams said.
Dr. Williams' is focused on allowing her students adequate time to complete their assignments. She takes this measure to help students balance their time between school and other activities.
Over the years, Dr. Williams explains she has seen an increase in academic stress. Dr. Williams explains the relationship between students' stress and the aftermath of the Covid pandemic.
"While the curriculum has changed, and actually pared down just a little bit because of COVID, we are trying to approach things differently because we lost skills during Covid. Students did, teachers did, we're trying to get our head above the water and figure out what's working in this environment," Dr. Williams explains.
Due to Covid, all students missed critical time in class because of the need to quarantine. Though a large population believe Covid is "over" the effects are still taking a toll on student's learning.
If you're struggling with a difficult class schedule, you are not alone. Reach out to your classmates, teachers, or counselors and prioritize your mental health.
Leave a Comment
About the Contributor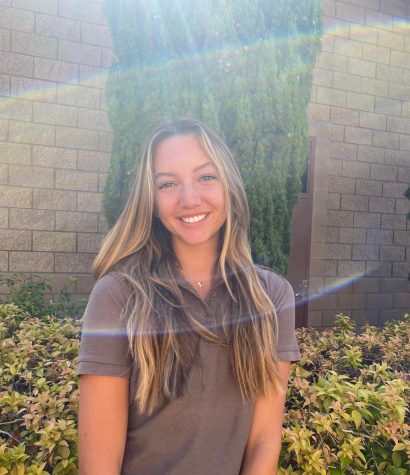 Brooke Johnston-Quirarte, Social Media Editor
Brooke Johnston-Quirate is a junior at Cathedral Catholic High School. Brooke was born in San Diego, California and her birthday is on August 13th. She...