Future Options
The school day drags on, never seeming to end. However, unlike other students at Cathedral Catholic High School, the ticking of the clock sets in anxiety, and a learning disability prevents time in class from being productive. With the tap on a shoulder, when class time becomes too much, Options program students have mentors to guide them through the day and make schoolwork bearable and enjoyable.
"Seeing and working with my students is almost always the highlight of my day," Options mentor Alicia Morales '19 said. "Whether it's me or them having a bad day, there's always a way to work through it and spend my elective class in an amazing environment."
As students receive mentor acceptances, new and returning mentors alike must renew and evaluate their ability to create new bonds with students in the Options program. Mentors accompany a specific student to their class during their assigned period, modifying as needed for different situations.
"Our whole mentor program is built around the mentor to student connections that I can see forming," Options teacher Mrs. Adriana Pehl said. "You can just see someone's day get visibly better when they get to work with a mentor that they really love."
The majority of mentor applicants have not yet had the experience working with special education students other than the occasional sighting around campus or a shared class.
"I always try to talk to Bella when I see her around after sharing our P.E. class freshman year," Lindsey Lingham '21 said. "But I haven't had much personal contact and have no idea how working in a classroom setting would go with any of the Options students."
Because she has been accepted into the program, Lingham and Bella Pellegrino '21, a current Options student, will receive the opportunity to deepen their relationship before the start of next year's new schedule and classes.
Mentors and Options students attend a weekend of "summer school" to bond and get to know each other, lessening the shock of the first day and seven new mentors for each Options student, Mrs. Pehl said.
Many mentors find tricks for working with each specific student and their energy level or ability throughout the day.
"Each student has very unique characteristics and different things that they respond to," Morales said. "Like Thomas, he specifically responds really well to an arm squeeze. It is just something he really likes, and also Cheyenne is very responsive to music.
"Noticing early on what the student responds to is really important, so that later on the focus is about more building the connection which makes everything else easier."
Thomas Byrne '20 and Cheyenne Peterzell '20, both a part of the Options program, have different mentors for each of their classes — seven per semester. Now on their third year and sixth round of mentors, they have to be open and willing to interact with their new and different classmates.
"We try to make sure that everything is very fluid because there are so many people coming through that door everyday to hang out with the students," Mrs. Pehl said.
Mentors gain lasting experiences from joining the program that continue outside of school and into their everyday lives.
"I'll never forget what it was like working with Thomas," Morales said. "Taking him to football practices and helping with classwork.
"Seeing how the other students his age interact with him was the sweetest experience."
About the Contributor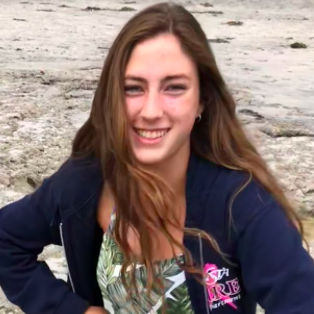 Rebecca Madden, Multimedia Editor
New to the experience of writing for an audience, I look forward to exploring my skills and pitfalls as an El Cid journalist. As this year's Multimedia...