Red Ribbon Week 2.0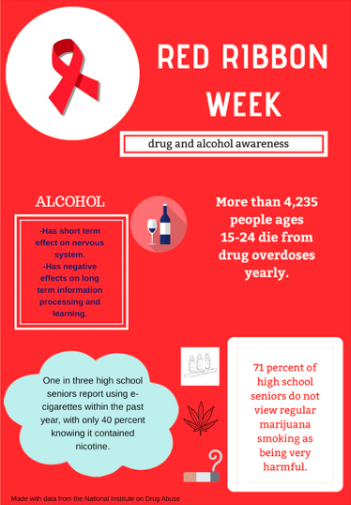 Most 15-year-old teenagers spend their days enjoying the first couple years of high school, looking forward to potentially earning a driver's license or stressing about exams and grades.
However, these typical teenager sources of joy and angst are not the most pressing issue confronting modern-day youth.
According to an Association for Psychological Science study, 50 percent of adolescents are exposed to illicit drugs by age 15, with a majority of the experiences occurring in high school.
"It's just not that shocking anymore," Cathedral Catholic High School student Catie Pentlarge '20 said. "Kids vape, and kids juul. It's not a very big topic of conversation. It just happens."
To raise drug and alcohol awareness for students and parents alike, the CCHS counseling team will lead the Cathedral Catholic community this week into the nationwide Red Ribbon Week campaign with a variety of activities and presentations.
"There is so much pressure surrounding drugs with high school students," CCHS college counselor Miss Collette Reid said. "So, raising the topic of how that can affect your future is very important for our student body,"
The National Family Partnership, a national leader in drug prevention and advocacy, sponsors a national campaign called Red Ribbon Week for schools, where students across the country participate and pledge to live their lives drug free.
For more than 38 years, the campaign has reached millions of students through integration into school programs, supporting the core message of a drug-free youth, according to the Red Ribbon Week campaign website.
Working with a senior campus ministry class, the counseling office created themes for each day of the week, all of which revolve around and build off of the inspirational Red Ribbon themes, Dean of Counseling Mrs. Ashley Bascom said.
Adjusting the general themes created by the Red Ribbon Week campaign, campus ministry members aim to alter traditional activities with modern twists in order to help resonate with the students on campus.
"We wanted to make the week as enjoyable as possible with such a topic," campus minister Carly Duenas '19 said. "Planning the fun lunch activities, like our Wednesday obstacle course and being able to bring therapy dogs onto campus on Friday, is making us really excited for everybody to see."
Adults and parents often harp teenagers about the dangers of drugs with the message that drugs are harmful. The cliche portrays the sentiment, but expanding on the reality of the issue is a goal CCHS counselors hope this week will accomplish.
"By seeing the effects of alcohol through other people's experiences, and by bringing tangible realities of alcohol like a crashed car to campus," Miss Reid said, "I hope it will really impact students with their future decisions."
Often, discussing drug use among friends or with adults is an uncomfortable topic unmatched by any other trending issues. Red Ribbon Week attempts to erase stereotypes and to open discussion among counselors and students.
"Our goal is to make the week approachable so that it's a topic we can get students talking about," Mrs. Bascom said. "We want students talking about how drugs and alcohol affect individuals and the community and how we can support each other to make more positive choices.
"We want students making those positive choices instead of making choices just to keep up with trends."
Despite taking place nationwide, Red Ribbon Week does not always reach students' hearts.
"I remember that Red Ribbon Week as a thing we do every year, and I know to associate it with drugs," Pentlarge said. "Honestly, no specifics from last year stick into my mind. The intent is there, and it's a great cause. However, it wasn't something that had too much of an affect on me, personally."
Handing over much of the planning responsibilities to students this year, the faculty hopes the program will reach a greater number of students.
"What we are doing should be very appealing to the student body," Duenas said. "Since kids are starting to think about getting their licence and taking on the responsibility of driving, a lot of emphasis is being placed on the dangers of driving intoxicated."
Red Ribbon Week, although often overlooked by students, acts as a warning to students to protect them from making bad decisions surrounding drug use that could potentially change their lives.
Different themes during the week will entice students to participate in the event.
Tuesday focuses on the future, encouraging college sweatshirts and tees. Wednesday's theme is Wacky Wednesday with crazy hair and socks. Thursday takes a red, white, and blue theme. Friday is a red out with a school-wide assembly.
"Being aware of the many ways involvement with drugs can ruin your future is really the most important part," Miss Reid said. "Colleges can decline admission, and the path for the rest of a student's life can be cut off in an instant. If I had one piece of advice for struggling students, it would just be to always stay strong in your values and always stay drug free.
"It will keep you safe in the long run."
About the Contributor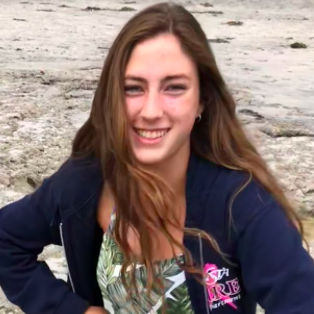 Rebecca Madden, Multimedia Editor
New to the experience of writing for an audience, I look forward to exploring my skills and pitfalls as an El Cid journalist. As this year's Multimedia...