After exams, Dons have one more bubble to fill
Hang on for a minute...we're trying to find some more stories you might like.
While preparing for final exams, Cathedral Catholic High School students become keenly aware of the tragic hero cycle and periodic table elements.
However, shortly after sharpening their pencils for the last time, their attention will be called to something more important than the final mark on their report cards: the presidential election.
Students 18 years of age and above will bubble one more question July 7, 2016, the date of the California Presidential Primary Election, when they will select among either Democratic presidential candidates Hillary Clinton or Bernie Sanders, Republican presidential candidate Donald Trump or Libertarian presidential candidate Gary Johnson.
While many Americans, especially young people due to their historically low voting record, see a bleak future in those three names, CCHS teachers insist it is crucial they cast their ballots.
According to the U.S. Census Bureau Current Population Survey 2012, only 45 percent of Americans aged 18-29 voted that year. This is not a new trend as the youngest demographic of voters have finished last since 1996.
So, why are young people shy to the polls?
"They probably think the issues don't affect them," AP U.S. Government Teacher Mr. Joe Fillipone said.
During election season, remember the words of Ancient Greek statesmen Pericles: "Just because you do not take an interest in politics doesn't mean politics won't take an interest in you."
Echoing the Ancient Grecian line of thought, Mr. Fillipone said, "Your vote matters because the issues that they're debating about definitely affect you."
Consider social security.
A young person might think, "that's for old people." However, once they are employed, they will pay into social security, as well. When thought of as an investment, young people might realize they care about the fruits of all those years of government-mandated investment.
U.S. History Teacher Mr. Joe Kilroy has a different theory for why young people tend to avoid the polls.
"I don't think they watch the news, so I don't think they know the importance of voting," he said.
Ignorance of the happenings in the country is surely something to be remedied. Mainly, people who plan to vote should educate themselves prior to hitting the polls.
"You have to engage intelligently in the democratic process for it to work, and part of that engagement is you have to vote," Mr. Kilroy said.
When one votes, he or she ought to vote intelligently, with a thorough understanding of all the pertinent issues so they can make an educated choice regarding the best choice for America's future.
Not feeling inclined to turn on Fox News or CNN?
Mr. Fillipone suggests searching the internet for nontraditional news sources that might focus on "younger" issues, or present the information in a more engaging fashion.
In America's democratic process, it is commonly noted that the people only have a "choice" between the few candidates hand-picked for them by "the powers that be."
Mr. Kilroy asserts that getting involved in politics will result in more desirable candidates for election.
"The media can put in front of us anyone they want and do anything they want with them, and we get characters like Trump and the whole Republican ticket," Mr. Kilroy said. "Trump and Rubio and Cruz are creations of the media. If young people don't get involved and express their wishes and their desires, they get what they get. You can't complain about leaders if you don't vote."
So, how does one vote? Register to vote on California Secretary of State Alex Padilla's website at http://registertovote.ca.gov. No matter which "party preference" one selects, he or she will be able to vote for anyone in the general election.
However, for the primaries, only registered Republicans can vote Republican and only those registered Democrat or No Party Preference can vote Democrat. The "American Independent," or "Independent Party" is not the same as registering no party preference.
Get out to cast your vote on June 7 and Nov. 8, 2016.
"You can't whine if you don't vote," Mr. Fillipone said.

About the Writer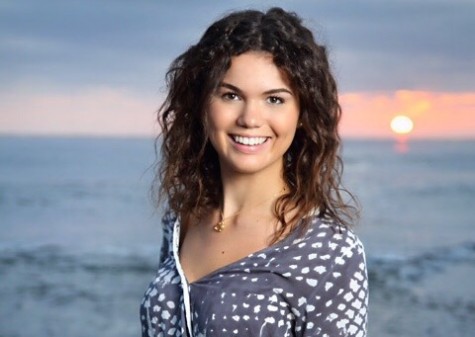 Sarah Scherer, Managing Editor, Opinions Editor
Hello! My name is Sarah Scherer and I'm a senior here at Cathedral. I'm excited to serve as Managing Editor and Opinions Editor this year on El Cid. I have a passion for journalism and I aspire to be a published author. I completed the Georgia Journalism Academy for Editorial Writing in summer 2015, and...