Trip of a lifetime
While most Cathedral Catholic High School students began this past school year in class, Mia Battiata '19 and Maddie Battiata '20 prepared to embark on a world trip with their family that would substitute their fall semester.
"My parents had been thinking about doing this trip for a while, and they decided to tell us one night at dinner," Mia Battiata said. "My dad said that he and my mom had decided to take us a trip to travel the world for four months. My older sister, who attends the University of Colorado Boulder, found out over the phone and totally thought we were kidding."
The Battiata family recently visited approximately 40 scenic locations around the world while missing the first semester of school at CCHS.

"I was so surprised when my parents said we were going to travel the world for four months," Maddie Battiata said. "I didn't believe them at first, and I didn't think it would actually happen. My dad lived and traveled all around the world when he was younger, so it was his dream to do the same with us."

The family traveled to diverse places around the world, ranging from the Bahamas to the Egyptian pyramids. The various places the family journeyed to required long days of travel, but reaching gorgeous locations was the ultimate prize.
"We decided to take our family on this trip because we felt that as parents, the greatest gift we could give our kids was to give them the opportunity to experience different people, cultures, and places around the world," Mr. Matt Battiata said.
Mia Battiata emphasized the beauty of the locations the family visited.

"I would have to say that I loved Barcelona," Mia Battiata said. "It had such good vibes there and perfect weather. I also fell in love with the Maldives. It was a dream of mine to go there, and the sights were something you would see on pinterest or on a postcard."

In order to complete all the necessary classes and requisites CCHS requires, Mia Battiata and Maddie Battiata kept up with schoolwork through National University, an online school.

"We were able to take all the classes we needed online to obtain the credits to finish the semester," Mia Battiata said. "That allowed us to not fall behind, and to start school back again second semester."
However, managing schoolwork while also enjoying each unique location presented a conflict.   

"Trying to stay on schedule with online school and not fall behind, and balancing that with traveling and exploring new cities everyday was a challenge," Mia Battiata said.

College admissions also drew another focus for Mia Battiata to stay on top of, as most of the college admissions process is done during the first semester of senior year.

"I kept up with college admissions by knowing the deadlines for schools, and taking the time to complete them whether it was missing a day of sightseeing or a tour," Mia Battiata said.

Although keeping up with schoolwork was difficult, according to Maddie Battiata and Mia Battiata, it was not the hardest part about the trip.

"The hardest part about missing school would have to be not seeing my friends every day, because it's very different than what I'm used to," Maddie Battiata said.

Mia Battiata agreed with her sister, particularly regarding the difficulty in missing out on activities specific to the senior class.

"Missing all the football games, my friends, and some of the senior activities were hard as well," Mia Battiata said.
Despite these conflicts, the Battiata family exclaims that this was the trip of a lifetime, and one they will never forget.
"We saw incredible natural beauty, and we saw incredible human poverty," Mr. Battiata said. "In addition to everything that we saw and experienced, as a family we grew much closer, which was probably one of the the biggest bonuses from the trip."
About the Writer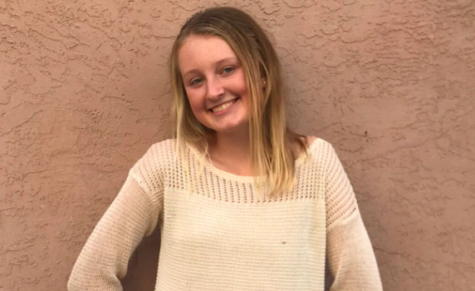 Ellery Wakeman, Assistant Photo Editor
Born and raised in San Diego, my interests include writing, photography, soccer, and cross country running. By nine years old, my best friend and I formed...