Exciting yet expectable
Bille Eilish's debut albums appeals to her fanbase.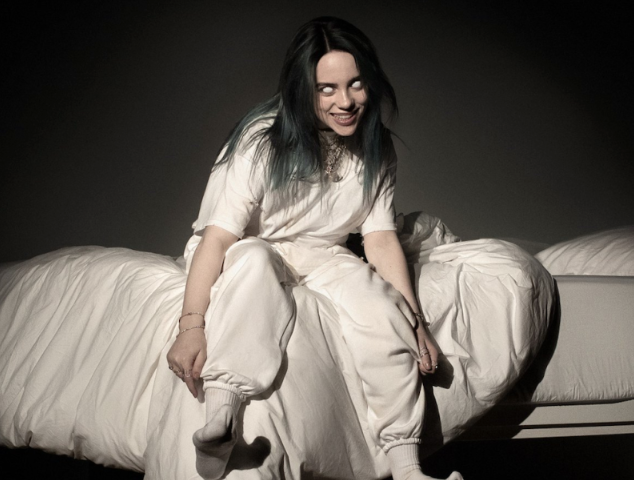 Picture an average 17-year-old's life containing day after day filled up with school, sports, extracurriculars, piles of homework and the prospect of college or the future at the back of his or her mind.
At just 17 years old, with over 36 million monthly Spotify listeners, singer and songwriter Billie Eilish recently released her debut album WHEN WE ALL FALL ASLEEP, WHERE DO WE GO? which connected with her strong, young fan base and quickly became a hot subject both liked and disliked by audiences.
Before the album released March 29, four of the its 14 tracks released as singles made the Billboard Hot 100 list, with the most popular single titled, "bury a friend," peaking at 14.
The album is comprised of tracks that both hit and miss the standard she has set for her own personal style of music. The repetition of song structure in the last few tracks wear at the quality of her originality.
Eilish's past EPs and singles mimic each other in structure and tone, highlighting her unique and breathy voice over laid back track, allowing her meaningful lyrics to shine through. Her past music incorporated personal experiences, although general, that connected with listeners of her same age bracket.
The real taste of a slightly new style for Eilish came with the February release of "bury a friend," a bass and lyric-heavy song describing her past nightmares and lucid dreams from the perspective of a monster camped out under her bed. Although overpowering at times, the catchy beat gave her an opportunity to change her style, which sparked controversy amongst some fans.
"It's impressive that she's young, but she's also making music that I'm interested in," Cathedral Catholic High School student Ava Burger '21 said. "It's not just an annoying pop song that gets stuck in your head and isn't actually good."
Although many listeners enjoyed her new sound, some fans found it lackluster.
"The newer songs that I've heard from her are more 'meh' than some of her old ones," CCHS student Joelle Tran '21 said. "You really don't hear her voice as much, and they just sound less unique."
WHERE DO WE GO incorporates elements of both the new style and stronger bass, along with more similar tracks to her familiar sound.
Rather than just relating to more general experiences of teenage life, Eilish takes the opportunity to weave her personality throughout the album. The first track comprises of short clips from her laughing in the studio, and the ninth track to the song "my strange addiction" included clips from a popular episode of The Office.
Eilish expresses both the fun and dark parts of her personality in a mixed order, likely nodding to the jumbled emotions she and fellow teenagers experience.
With her debut album release, Eilish planned on expanding her audience and appealing to people of all different music tastes. The album falls into the alternative genre, but Eilish hoped to include at least one track that any person could latch onto.
Even with the album's initial success, with songs topping the global and U.S. Spotify charts, there is a limit to the true variety it was claimed to have.
Because she is so young, many adults often dismiss her status as an artist because of her age and song content matter.
"I haven't really heard of [Eilish]," CCHS student Maria Bengel '20 said. "I just get really caught up with the playlists that I make and only ever listen to them."
"It's easy and I like it, why should I branch out?"
Although Eilish's market audience is far younger than those of other pop artists, she creates strong connections through common experiences she incorporates into her lyrics and morbid music videos.
The personality added to this album bonds her to her to listeners, but does not reach those outside of her market.
Eilish will begin an album tour with a matching name April 13 for fans who connected to her recently revised public personality and style.
Eilish holds her focus on strengthening bonds with current fans, rather than selling out to a greater audience, but finds her songs losing impact as the album wears on.
"I wouldn't go see her on tour," Tran said. "Only parts of the album and newer songs really connect with me, and I can't pay half price for a ticket."
WHEN WE ALL FALL ASLEEP, WHERE DO WE GO? continues highlighting Eilish's unique voice and character, but fails to add the variety a full length album needs so she can appeal to greater audiences and even her own.
About the Contributor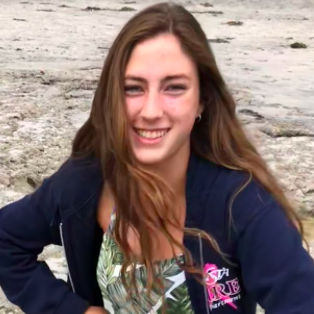 Rebecca Madden, Multimedia Editor
New to the experience of writing for an audience, I look forward to exploring my skills and pitfalls as an El Cid journalist. As this year's Multimedia...