The Talents of the CCHS Art Show
May 17th was Cathedral Catholic High School's (CCHS) annual Student Art Show, an event that students in all grades anticipate visiting. Students in classes ranging from introductory art classes to AP Art had the opportunity to display their work for the entire Dons community.
The Art show is an important aspect of CCHS student life as it offers students a platform to showcase their talents to their peers. Students from all classes came to view the show to admire each student's accomplishments.
Along with Wednesday night's art show, students were celebrated with numerous awards. CCHS student, Alexandria Peña, who is enrolled in AP Art, won the president's award. This award is given to a student's work selected by Dr. Calkins.
Peña created a thought provoking portfolio based on her childhood and how she has evolved throughout her life.
"I just wanted to focus on realism, I wanted to use photographs throughout various stages of my life, it was the topic that best aligned with my values," Peña says.
Peña's portfolio included a portrait of her childhood dog, along with a painting depicting her with her childhood best friend. The combination of these unique pieces of art crafted a whimsical and nostalgic rendition of her childhood.
In addition to Peña's portfolio, she has also used her artistic talents to spark creativity throughout campus. Last semester, Peña designed prayer cards for the Campus Ministry classes, and created club hoodies that students could wear around campus.
"I just wanted to give back to Cathedral for everything this school has done for me," Peña says.
The Annual Art show is one of many important events each year that showcases student's talents. Whether it be musicals, art exhibitions, or sports games, each activity represents important aspects of CCHS student life. These activities allow CCHS students to flourish in their individual talents.
Leave a Comment
About the Contributor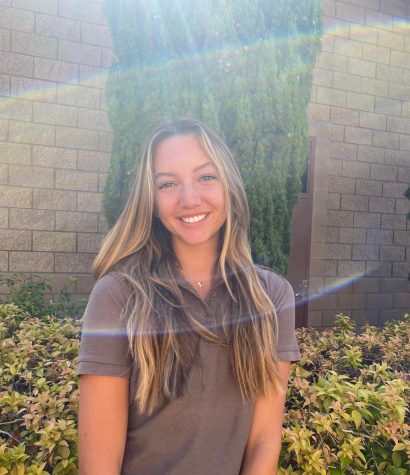 Brooke Johnston-Quirarte, Editor in Chief
Brooke Quirarte is in her senior year at Cathedral Catholic High School and her third year at Dons Press. Brooke was the head of Social Media her sophomore...