Oscars Recap
On Sunday, March 15th, the 95th Oscars premiered and were held in the Dolby Theatre in Los Angeles, California. Audiences tuned in from all across the world to view this annual event chock full of antics, guest stars and surprises. Yet what made this night truly special was the actors: their inspiring speeches and groundbreaking roles were what made these awards truly deserved.
The Oscars is known for recognizing and celebrating a wide range of movies from that year, yet three movies in particular made quite an impression on audiences. Some of the most awarded movies included The Whale and All Quiet on the Western Front. However, the movie that truly dominated the night was spectacularly unique Everything Everywhere All At Once, winning seven out of the eleven Oscars it was nominated for: a fantastic feat.
For this 2022 movie, Sunday night was clearly one to remember. Three of the four crown awards, Best Actress (Michelle Yeoh), Best Supporting Actor (Ke Huy Quan), and Best Supporting Actress (Jamie Lee Curtis) were awarded to members of this cast. Other Oscars won by this film were Best Director and Best Original Screenplay, aside from the cherry-on-top that was Best Picture. These awards were truly a testament to the power of this film, and its massive sphere of influence.
One of the most touching moments of the night was Ke Huy Quan's acceptance speech, as the first Vietnam-born individual to win an Oscar.
"Dreams are something you have to believe in. I almost gave up on mine. To all of you out there, please keep your dreams alive! Thank you so much for welcoming me back. I love you," says Ke Huy Quan, choking back tears.
He dedicated this award to his 84-year-old mother, who first inspired him to pursue the American Dream. As a child, Quan acted in infamous movies such as Indiana Jones and The Goonies. He retired from acting officially in 2000, yet was so influenced by the film Crazy Rich Asians, that he made the decision to continue his career in 2018. A comeback story if I've ever heard one!
Aside from Everything Everywhere All At Once, one movie that succeeded at the Oscars was Darren Arononfsky's The Whale. This film won for Best Makeup and Hairstyling, and Best Actor. The 'Best Actor' award was a true triumph for 54-year-old actor Brendan Fraser, who truly committed himself to the role of a desperate father who seeks a way to reconnect with his daughter despite the personal struggles he is going through.
After his win, Brendan Fraser remarked at the process of making the film, and his joy in its success.
"I'm so happy people are seeing it — people are responding in a way that's meaningful," Fraser told Entertainment Tonight. "It's touching a lot of people, it's good."
Like any actor would be, Fraser is especially thankful that people are moved by his film. Positive perspectives from others are a great indication of the power of a movie, and the potential for an influence that outlasts the lives of the actors within the film.
I enjoy watching the Oscars time and again every year, because it is truly inspiring to witness the passions of others. As an individual, I love what other people are passionate about. When someone has a committed, developed interest in something, it is beautiful.
Through their speeches, each and every actor, cinematographer or director displayed what I find so captivating about film. Like literature, film is something that has the ability to touch the minds and hearts of millions of people all at once. Everyone has the opportunity to find something different to love about each of these films.
I love that the academy, as well, has made significant strides. When the Oscars are at their best, they truly showcase the individual stories of the actors. Beautiful speeches by Michelle Yeoh, Ke Huy Quan and Brendan Fraser show audiences the humanity of people who often seem so far from public life.
I encourage everyone, if you haven't yet, to watch the movies that were showcased at the 2022 Oscars, and to tune into this awards event for years to come!
Leave a Comment
About the Contributor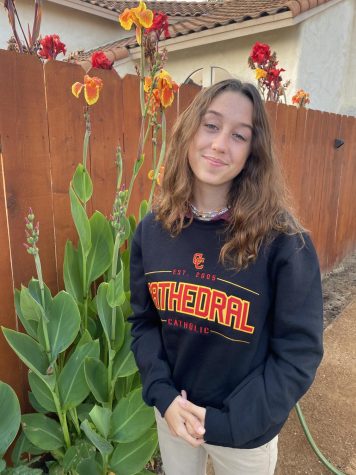 Ella Bloom, Staffer
Ella was born in San Diego, and currently resides in Carlsbad. She is the Arts and Entertainment Editor of El Cid, and senior at Cathedral Catholic. Her...