Knowledge is Power: Why Reading is Important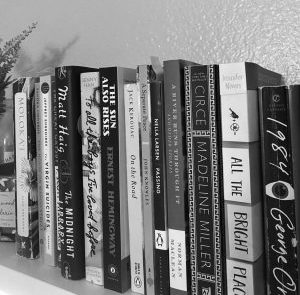 When I was younger, all I did was read. At any given moment, you could find me leafing through pages of National Geographic magazines or hunting down books at the library. I would reread novels just to fall in love with the author's words all over again. Yet as I continued to age, I began to fall out of touch with my favorite hobby. I was conditioned to read at school not for pleasure, but for a grade or an analysis. Novels became a free time activity rarely exercised after the luxury of obtaining my first cell phone or a new social media app. In short, the idea of reading exhausted me. I seldom picked up a book for the majority of my middle and high school years.
I was drawn back into reading in my Junior year of high school. An excellent teacher taught me how to pick out meaning from the author's words, and cherish it. Reading became no longer about how many rhetorical devices I could find, but about the joy of finding universal truths hidden like gleaming diamonds within a text. I felt as though I was no longer alone in the world. Reading was proof that people of decades past have experienced the very same human existence that I do, as well as the emotions that accompany a life on this earth.
From that moment on, I found myself diving into novels more and more. Hemingway and Fitgerald, Plath and Wilde. I soaked up their words as if they were the sustenance I needed to live.
Throughout the countless books that I have completed over the course of these two years, I have come to one simple conclusion. Reading is important. This may seem superficial. For many things are important. Food is important. Love is important. Yet reading brings something to the table that nothing else quite does in this world: an honest escape.
There are many ways that people may choose to escape. Yet through reading, people have the chance to be creative. Readers have the possibility to create thousands of different worlds within their heads. Even if reading the same book as another, individuals use their background and past life experiences to shape how they respond and interact with a book. Some may praise a novel, others may dislike it. For in reading there is a stunning variety, so much so that everyone can find something they love, whether it be fantasy or poetry.
Kelli Jackson, a Senior and avid reader at Cathedral Catholic, shared with me one of the many reasons why she loves to read: "I like to read because it's a stress reliever. I learn so much about myself and new perspectives I can see the world through". I agree wholeheartedly. Books are an entirely healthy engagement, an escape that can often relieve stress from day-to-day endeavors. She remarks that her favorite book is "Out of Love" by Hazel Hayes, and she looks forward to reading more books in 2023.
One of the main threats to the literacy rate (or simply people who choose to pick up a book) is technology. People find it easier, and often more convenient to unlock a Kindle instead of a book, or scroll through the news online rather than folding open a newspaper. Although there are many new ways to take in information, such as Kindles and audiobooks, there is truly something about a paperback book that is different. Leafing through pages is a process, and it demands undivided attention. It differs from something you could be listening to while washing dishes or driving a car. Reading a physical book creates a link between the author and the reader, in a tangible way that can be felt and appreciated. And I believe that no technology will ever substitute for the feeling of closing the cover of an excellent book, and setting it onto the bookshelf before you.
Yet continually, my favorite aspect about reading is how greatly it has improved my writing. For the one surefire way to expand our awareness of the written word is to go directly to the source; to authors who have dabbled and engaged in complicated sentence structure or beautiful metaphors. By familiarizing myself with writers who both came before my time and those still writing today, I am able to develop my vocabulary and seek new perspectives.
With every book that I read, my knowledge of the world is expanded. Knowledge of both things I know very well, and things I do not know in the slightest. Reading invites me to live a thousand lives in one, to experience the journeys of characters alongside them in their own not-so-different worlds. I know that reading isn't merely a hobby, but something that I can continue to engage in and enjoy for the rest of my life. I hope that after reading this article, you are encouraged to buy a new book, or perhaps crack open one you've been wanting to read but haven't had the courage to begin. For within a book is where we may escape, yet the words allow us to find ourselves by the end.
View Comments(1)