Charlotte Tilbury vs ELF Cosmetics
If you're on "Get Ready With Me Tik Tok," there's a 99% chance you've seen Charlotte Tilbury's Magic Wand dupes. Many influencers and users on Tik Tok have specifically posted reviews on ELF Cosmetics' Halo Glow Wands, praising this product as a dupe for the Charlotte Tilbury Wands.
The hype behind Charlotte Tilbury started when influencer and singer, Madison Beer, released her makeup tutorial on Tik Tok. She revealed how she acquires an illusion of high cheek bones through Charlotte Tilbury's makeup wands. Immediately, the products were sold out, becoming impossible to find.
The famous Charlotte Tilbury Wands consist of contours, highlights, glowy blushes, and matte blushes. Individually, these products sell for $42. ELF's new line, which sells a similar variety, compares at $9 per wand.
According to The Every Girl, Charlotte Tilbury's product, "is a complexion booster that blurs, smooths, and illuminates for a real-life filter effect." Charlotte Tilbury is for all ages, but most of their sales on the wands come from teens to young adults.
I'm a bit biased when it comes to Charlotte Tilbury because I have always loved her makeup and always will. Charlotte Tilbury is a British makeup artist and beauty entrepreneur who has truly made an impact on the beauty industry. Her brand, Charlotte Tilbury Beauty, launched in 2013, but before that, she had a career in the beauty industry for 25 years. She is a shining example of what it takes to succeed in the beauty industry considering she started her company from scratch at the age of 40.
If I could, I would fill my entire makeup bag with Charlotte Tilbury products, but unfortunately, her prices don't align with a soon to be college student's budget.
I use her Airbrush Flawless Foundation that sells for $49 for 30ml, which I love. But to compare, her wands hold 12ml of product and sell for $42. That's only a $7 difference for 18ml more of her product! The price difference is substantial, so why do people keep buying the beauty wands?
I used to own the Charlotte Tilbury contour wand, and I bought it because they had just restocked after Madison Beer's influence on Tik Tok. I was so excited but the first thing I noticed was when I opened the packaging the wand tube felt empty, like I had already used half of the product. Right there, I felt I was not getting what I paid for. So where is the hype?
The hype is in the actual product itself. After blending out my foundation I would place the contour under my cheek bones. What I loved about the product was it did not dry quickly on my face. This prevented the product from picking up the layer of foundation underneath and prevented splotchyness.
When the contour dried, it dried with a glowy finish. The 2023 makeup trend is to have a glowy finish to your look. Charlotte Tilbury's wands give you that glowy finish because they do not dry matte.
When I ran out of the product, I did not restock because the price was too high. Recently, ELF Cosmetics came out with their version of a contour wand so I thought I'd review the difference.
The first difference I noticed was ELF's packaging felt full of product, making me feel that I was getting what I paid for. When I applied the product over my foundation, it came out looking glowy and natural, just as Charlotte Tilbury's product.
Everything took a turn when I started to blend it out. I started by using a beauty blender, as I normally would, and it finished off looking splotchy. My foundation underneath had been picked up and my cheeks looked dirty. At the same time, the pigment was not at the same level as Charlotte Tilbury's.
Sometimes, products are used best with a brush, so I decided to give ELF the benefit of the doubt and start the review over. This time, I used a brush and the look came out better. My cheeks were not splotchy, but the pigment still wasn't what I wanted.
After my review, I don't think I would buy either product because Charlotte Tilbury is just too expensive, and ELF is poor quality.
Something that I don't have a problem with, but some consumers would, is that Charlotte Tilbury only has two shades in their contour wands, while ELF offers five shades.
Amazing makeup does not need to come at a high price, but there will always be a hype around high end products. When teenagers see their favorite influencer using all high end products and looking beautiful, it causes them to want to have the same products to achieve the same look.
No matter how many Tik Toks there are posted about how great the Charlotte Tilbury dupes are, they will always be considered a lesser quality, drugstore product. Also, most of the influencers you see posting about these drugstore products have healthy skin. What about the people with sensitive skin that easily breaks out by cheap products? Charlotte Tilbury has a backbone to her name and her brand which is why at the end of the day, consumers trust her and buy her product, no matter the price.
Leave a Comment
About the Contributor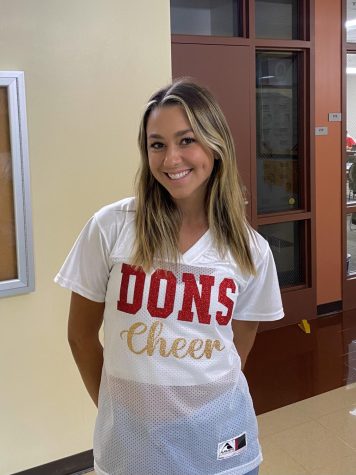 Danielle Corrao, CCHS News Editor
Danielle Nicole Corrao is a current senior at Cathedral. She transferred to Cathedral as a sophomore where she worked hard to become a Captain on the cheer...