Entitled: How Male Privilege Hurts Women by Kate Manne
"Entitled: How Male Privilege Hurts Women" by Kate Manne is a radical perspective of misogyny, described by Manne as "hostility women and girls face which serves to enforce gender norms." She unpacks the ways in which men, often unintentionally, put women at a disadvantage simply because history enables them. It is a 270 page continuation of Manne's award winning novel Down Girl: The Logic of Misogyny, and it did not disappoint.
I hesitated to understand the controversy surrounding her book because I immediately affirmed her claims with my personal experiences as a woman. It was when I considered that her intention was to engage a male audience— however misleading her title may be— that the intention behind her choices were revealed. This deciferance prompted me to highlight the most powerful and particularly truthful passages, and discuss them with a man. What this proved shifted my view of Manne's book completely.
Based on the discussions with men I had about Entitled, it is my understanding that men may limit female inequality to the wage gap; whereas Manne reveals that it is deep rooted in the systems of American society. She claims that men target nine broad points of entitlement: admiration, sex, consent, medical care, bodily control, domestic labor, knowledge, power, and girls.
I will admit that her arguments may appear overly accusatory toward men instead of toward the systems in place that fosters their behaviors. I fear that this approach has a counterintuitive effect and pressures men into defense rather than optimism. However, this may be the necessary tone for a female author in a discussion of female oppression to effectively gain respect and attention from male readers— who otherwise will minimize the severity of her claims.
Men tend to have a negative schema of feminism that stems from the misconception that feminists hate all men, a movement that true feminists know contributes to the polarization and inequality of the sexes. I pride Manne of knowing her boundaries and protecting the reputation of feminism throughout her text by only making claims that are logically validated by layers of sources, studies, and statistics.
I recommend this book for critical thinkers and men or women interested in feminist social progress. I enjoyed the depths and complexities of Manne's writing and she empowered me to stand up for myself against oppression. I am confident in my capabilities to succeed in society but I value the humility to understand what disadvantages me, and Entitled: How Male Privilege Hurts Women by Kate Manne educated me to this extent.
Leave a Comment
About the Contributor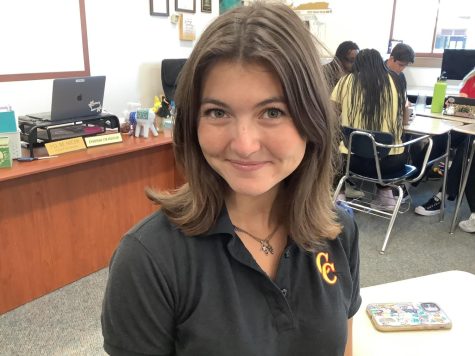 Sarah Brown, Co-Editor in Chief
Sarah Brown. Cheerleader, journalist, and vegan. Sarah has three siblings, all in college and her sister attends Colorado State University. She failed...