Bits & Bytes of Tech: iOS9
On Wednesday, Sept. 16, 2015, Apple released the latest iteration of iOS, its mobile operating system, to the public, promising new multitasking interfaces, improvements in performance and battery life, and 3D touch integration.
Anyone familiar with iPhones and iPads has experienced Apple's flagship operating system. Every year, Apple upgrades iOS with the newest feature trends, usually focusing on efficiency and aesthetic improvement.
In iOS 7, Apple changed the aesthetic feel of its operating system as a whole. This change included a move to make app windows appear more opaque. This steamed glass appearance proved popular with Apple fans, and the company chose to continue the trend with iOS 8 and iOS 9.
Of the many features that iOS 9 brings to Apple devices, multitasking stands out from the crowd. On the iPad Pro and iPad Air 2, users are able to split their screen into two partitions, creating two separate workspaces for application use. This means users that own the iPad Pro and iPad Air 2 can use two apps at once, fulfilling Apple's promise of increased opportunity for work efficiency and multitasking. Sadly, this feature is only available for owners of the iPad Air 2 and the iPad Pro due to processing power constraints on older models.
In addition to full screen multitasking, Apple also introduced a feature called Slide Over. This feature is available for the iPad Air and up and the iPad Mini 3 and up.
If iPad users slide their fingers from the right side of the screen to the left while inside of another app, they are greeted with an interface that allows them to choose from an app that they want to use from a list of Slide Over compatible apps. Once they select an app, the iPhone version of the app appears in the left third of their screen, giving users a way to quickly check something in another app without having to switch apps completely.
Aside from multitasking, Apple's new operating system also promises to deliver performance improvements for older devices and battery life extension for all.
Apple's iOS 7 delivered a major blow to performance for all devices except for the newest pieces of tech at the time, the iPhone 5S and the iPad Air. The performance issue was so crippling that many consumers who had upgraded to the brand new software immediately downgraded to iOS 6 in order to regain the functionality of their technology.
Even though iOS 8 made improvements in performance, some devices still had issues with lag in the multitasking interface and while using their applications. Apple said iOS 9 should repair even more functionality than iOS 8 for iPad 2 and iPhone 4S devices and newer.
iOS 7 also dealt a major blow to battery life, and while developers eventually fixed this problem in iOS 7, it resurfaced in early builds of iOS 8. For devices that still experience battery problems unrelated to performance issues that should be fixed in iOS 9, Apple has also created a setting that reduces a device's battery consumption to a crawl.
According to Apple's website, this feature has the possibility to increase a device's battery by at least an hour. This means iPhone and iPad users will have extra juice when they need it to power through the day or stay connected through the night.
Finally, Apple introduced the iOS equivalent of Force Touch, called 3D Touch. Force Touch is a feature introduced on some of Apple's newest trackpads for its Macbook Pro Retina models which allows varying degrees of touch intensity to activate different features on the computer. For example, if a Macbook user touches down with a lot of force as their cursor is over a word, Apples Yosemite software recognizes the force and opens a window that defines the word that the cursor was hovering over.
Similarly, 3D touch on the iPhone 6S allows users to touch their screen with varying degrees of pressure to unlock new features of the operating system, focused on making the iPhone experience even more efficient, allowing quicker execution of frequent actions.
If users hold down on an app on the home screen with more force than usual, they are able to access a pull-down menu that reveals shortcuts to frequent actions associated with that app. On the mail app, for example, some of the options in the menu could include starting a new email or jumping right into one of a user's many possible inboxes.
This feature also has application inside many of the apps that users access the most. Peek and Pop are two features that Apple has designed for efficient use of the iPhone. Instead of opening an entire email to get an idea of what is inside, the 6S will allow iPhone users to hold down, harder than normal to get a "Peek" of what content lays inside. If you want to open the email from there, you can "Pop" that Peek into a full screen display view of the email.
These three improvements comprise the bulk of iOS9 update. As it does every year, Apple only improves a few items of its previous operating system. However, every year Apple still manages to revamp the entire iOS experience in terms of software experience and product innovation.
About the Writer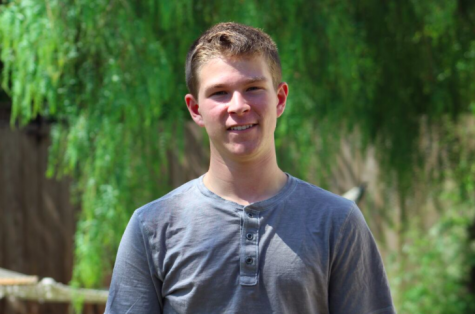 Cole Parsons, Photo Editor
My name is Cole Parsons, and I am thrilled to be a part of the journalism team at CCHS. This is my first year taking Journalism, but I have many years...