Amidst the classrooms and corridors of Cathedral Catholic High School (CCHS), the Options program cultivates a vivid picture of acceptance and happiness that leaves an indelible mark on all who experience it. Each student in the Options Program is assigned one mentor per subject for academic and social support each semester. Ms. Day is the head of the CCHS Options program alongside Ms. Hallare and Ms. Falo. 
"It's an opportunity that you're not going to get anywhere else before you go to college," Ms. Day shares, referring to the Options program. As the lead of the program Day explains, "I get to see the growth and progress in not only my students but also the mentors…in a symbiotic relationship."
 In a similar way, Mason Lagrossa, CCHS '24, communicates, "being a mentor got me out of my comfort zone initially and helped me to expand my community drastically. I have learned patience and perseverance from all of the students." 
Similarly to Lagrossa, numerous students account to the impact the Options program has left on their hearts.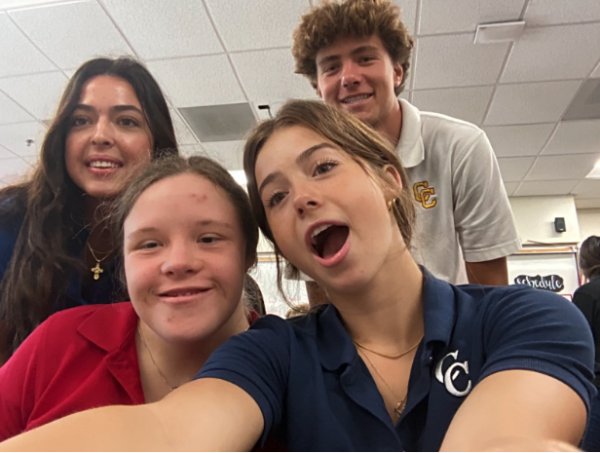 For Karis Goodwin, CCHS  '24, "the Options program is my favorite thing I've ever been involved in at Cathedral." Goodwin has been devoted to the Options program for two years and is the leader of the CCHS Best Buddies club. Best Buddies allows for a broader body of students to foster relationships with students in the Options Program and nationally support all people with intellectual disabilities.
 "Running the Best Buddies club is just about making the Options community a more open place to underclassmen," Goodwin elaborates. Only juniors and seniors can be mentors so Goodwin defines, "I really try to expand [the Options Program] to everyone." 
Each semester, mentors participate in two events with the Options program. These events include school dances, beach days, sports games, birthday parties, holiday celebrations, and student body activities. Ms. Day conveys her favorite event with Options, "Two years ago we did a soccer faculty vs Options students game which was really fun."
 Shay Dornan '24, expresses his favorite event, "was helping out at the freshman dance. I supported Olivia, who loved to dance with me and my best friend."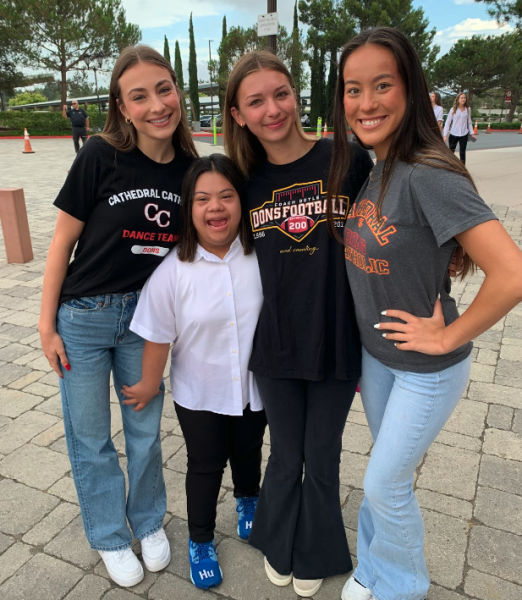 This school year, the Options program gained three incoming freshman students while five seniors graduated from the program last year. Ms. Day highlights, "Our three new freshmen bring a lot of personality and friendliness and they're just so happy to be here."
 For freshman student in the Options Program, Ella Lambros, CCHS '27, her favorite thing about Cathedral has been flourishing in her faith journey. She attends Thursday morning mass every week and shares, "I love it because it makes me so happy."
Once a Don always a Don is a huge virtue of the Options program and all Dons alumni are constantly celebrated. Alumni of the Options Program attend sports games, stay in contact with Ms. Day, and visit the campus regularly. 
Gabrielle (Gabi) Schlador, a CCHS alumna, held a reputation as a shining light on the sidelines. Member of the cheer team, Miley Black, CCHS '24, emphasizes "Gabi was someone who we could all look up to because of her positivity and the constant support she brought to the team." 
This football season, Schlador came to the homecoming game. Sarah Brown, CCHS '24, elaborates, "seeing her on the sidelines again was so heartwarming because of her infectious spirit."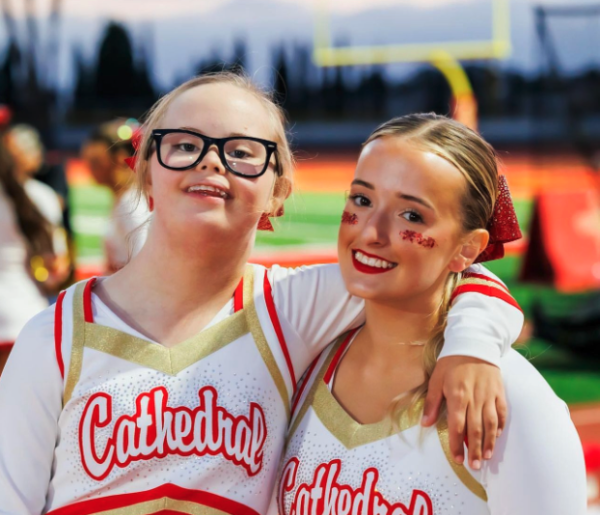 Upperclassmen have the opportunity to apply to be an Options mentor and all students can be involved in the program through the Best Buddies club, crafting relationships on campus, school events, and volunteering opportunities. The Options program is unlike any other program. It changes lives, fosters hearts, and acts as an inclusive haven for the Dons community.