Girls basketball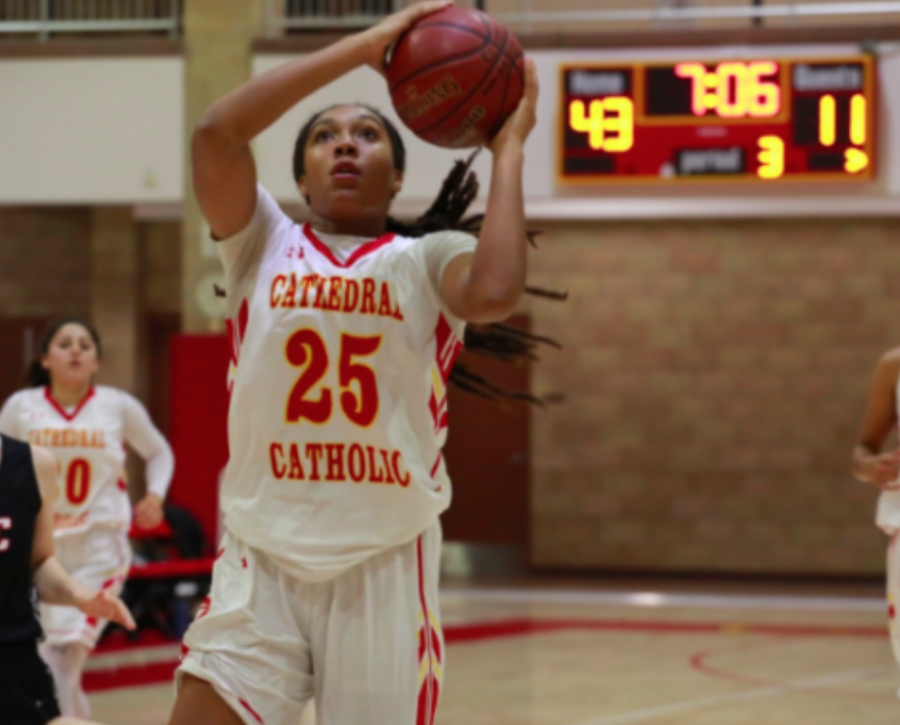 The Cathedral Catholic High School girls varsity basketball team is defending its San Diego Section California Interscholastic Federation Open Division title against the La Jolla Country Day School today at 5:30 p.m. in the Rimac Arena at the University of California, San Diego.
CCHS (19-10) (8-0) lost an overtime thriller 66-63 in its only meeting with LJCDS (29-1) 4-0) more than two months ago. 
LJCDS ranks number one in the nation according to MaxPreps, and the Torreys boast a 13-game win streak.
The Lady Dons have won its last nine contests and rank 53 in the nation, according to MaxPreps. 
Rankings aside, CCHS has generated its energy for the upcoming heavyweight brawl.
"The team needs to really focus in practices to figure out how to shut the opponent down," CCHS player Mazatlan Harris '20 said. "We also have to believe in each other and let each other know that we can do this and keep our heads held high."
Oregon-bound point guard and 2020 McDonald's Girls All American Te-Hina Paopao '20 will be a focus point for the Lady Dons.
The Lady Dons are led by its center and University of Connecticut commit Isuneh Brady '22, point guard Itzel Navarro '22, Harris, the senior captain.
CCHS contributes 61.9 points, 36.8 rebounds, 17.2 assists per game, offensively.
Offensively, LJCDS adds 69.1 points, 33.1 rebounds, and 16.3 assists per game.
The Lady Dons, coming off of a San Diego Section California Interscholastic Federation Open Division Championship from last season, have continued solid play to defend its throne
"What the team has done well this season is winning enough games to place us in this division for the championship game and working hard in practices to prove that we deserve to get another CIF title," Harris said. 
CCHS defeated The Bishop's School and Christian High School soundly at home to compete in Saturday's contest.
LJCDS defeated Mater Dei Catholic High School and narrowly took down Bonita Vista High School 48-46 last Wednesday in the semifinals.
As CCHS prepares for its biggest game of the season, it reflects on the hard work and goals the team had for the season.
"Playing in this game was definitely a goal since the beginning of the season," Harris said. "We started lifting weights and training for this moment literally on the second day of school."