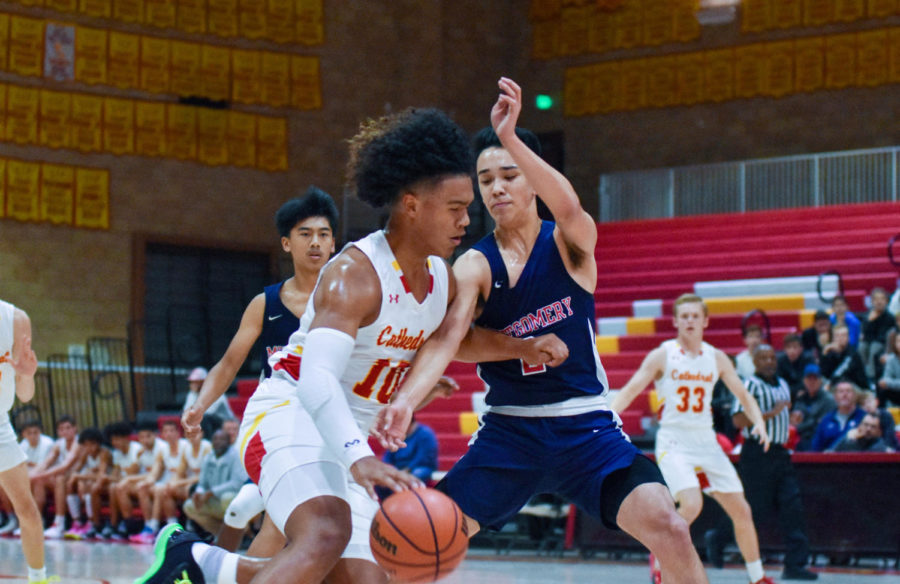 Boys basketball
Following a California Interscholastic Federation championship in the previous season, Cathedral Catholic High School varsity boys basketball team is hungry for more.
The team only lost one senior last season, which still leaves CCHS with almost the same team from last year. Key players are shooting guard Thomas Notarianni '21, who was one of the top scorers last season, power forward Obinna Anyanwu '21, a player who emphasizes glass play and is the only player on the team who can consistently dunk.
Point guard Alex Wade '21 also chooses to focus his game the close to the basket, driving rather than shooting. Beon Riley '20, a recent University of Hawaii commit, is a small forward who transferred late last season to CCHS. Scotty Prunty '20 is a small forward/shooting guard who acts as the team's sixth man, and  he plays a strong supporting role on the team. Center Dillon Wilhite '21 is the big man defending the basket and laying in shots.
"We have a really talented group of guys this season, and I think it'll be a fun team to watch," Prunty said. "The opening game of the season against Sierra Canyon High School drew quite the crowd."
The nationally-ranked SCHS team featured players such as Brony James '22, son of star NBA basketball player LeBron James, and Zaire Wade '20, son of retired star basketball player Dwayne Wade. CCHS lost to SCHS 59-46 in their season opener.
With its current 5-1 record, the team is confident moving into the rest of the season.