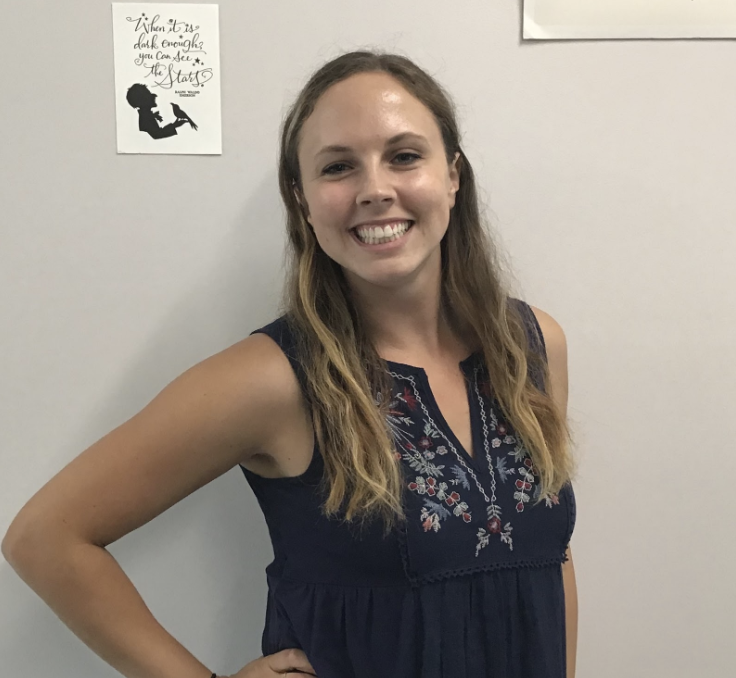 Ms. Paula Kerby
When Cathedral Catholic High School hired Ms. Paula Kerby as an English teacher, two weeks of the school year had already passed.
"The transition has been pretty smooth," Ms. Kerby said. "We did a letter-writing activity in class today where I told my students all about me and they wrote me letters about themselves. I'm excited to read them to get to know my students and make up for the missed time."
Ms. Kerby took over Ms. Sara Osmus's classes, who now serves as the Assistant Dean of Students and the Director of Cathedral Cares Medical Home School Program. After Ms. Kerby sat in to observe while Ms. Osmus taught and vice versa, Ms. Kerby was prepared to start full-time last Friday.
"[Ms. Osmus and I] both believe a classroom should be run the same way, so the transition has been smooth," Ms. Kerby said.
Born and raised in the Bay Area, Ms. Kerby moved south and earned her Bachelor's of Arts, her Master's of Education, and her teaching credential at the University of California, San Diego. She taught middle schoolers at both Pacific Beach Middle School and Montgomery Middle School before CCHS English teacher and fellow UCSD classmate of Kerby's Ms. Kiera Bocchino informed her of an open position at CCHS.
CCHS hired Ms. Kerby last week, and she has already experienced a drastic change.
"It's been really fun transitioning from crazy middle schoolers to juniors and seniors, Ms. Kerby said. "Longterm, I wanted to work at a high school. I think this school specifically is a good place to transition into teaching high school because it seems like you can really focus on rigor and diving deep into texts and doing really cool stuff."
Although Ms. Kerby's school year just started, she looks forward to the impact she can make on her new students.
"I'm excited for building relationships with all the kids," Ms. Kerby said. "That's my favorite part of teaching, hands down. I love building connection and getting to work with and learn about all the students in my classes.
"I'm also excited to help open the mind's of the students I teach in my english classes and hopefully teach them some real life lessons as well."