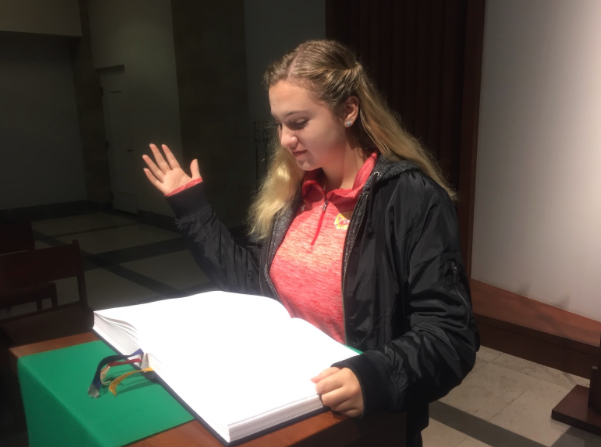 With change comes growth
November 18, 2017
Becoming an upperclassmen at Cathedral Catholic High School comes with many privileges, such as attending retreats, taking more electives, and serving as a campus minister.
The latter comes with significant changes.
"I had mixed feelings [about changes to campus ministry]," CCHS student and cross country star Joaquin Martinez de Pinillos '18 said. "I was bummed out that I would most likely not to be able to lead a junior retreat like I had always wanted. I was really looking forward to a retreat-focused class."
Martinez de Pinillos will still get his chance.
Starting this school year, CCHS campus ministry classes were split up by grade instead of by area of interest, with Campus Ministry 11 and Campus Ministry 12 replacing Liturgy, Outreach, Retreat, Service, or Sports Outreach. Under the new organizational plan, students now participate in all aspects of campus ministry.
When the changes were first announced last year, students were upset about the fact specialized campus ministry classes would not be offered anymore. 
The source of discontent stemmed particularly from the cancellation of the retreat-focused class — a senior exclusive. Other students felt the chance to dive fully into an area of ministry was now unavailable due to the changes.
However, the problem arising from the specialized classes was the limited class periods offered. Some students could not enroll in their preferred classes because of scheduling conflicts, according to campus ministry teacher Mrs. Sandy Blackstone-Gardner.
"We did not want to discourage anyone from taking campus ministry," Mrs. Blackstone-Gardner said. "We don't want to put one specific category of campus ministry over another."
Now that campus ministry is offered every period, every student possesses the opportunity to take the class, which employs a textbookless approach to the Catholic Faith that allows students to display the message of Christ through service opportunities in the CCHS community.
The classes now work on a rotation schedule, thus permitting every class to work on planning different religious events that benefit the entire CCHS community, Mrs. Blackstone-Gardner said.
CCHS student Sophia Bosque '19 and her Gold 4 Campus Ministry 11 class are helping with the Faithline Club, which was created this year as a way for freshman and sophomores to get involved with campus ministry before they take the class.
By meeting regularly and participating in fun activities, the Faithline Club emits a youth group atmosphere.
"I've really enjoyed campus ministry and getting to know my classmates better," Bosque said. "I enjoy serving the community and finding ways to help other students enrich their faith lives.
"It's also a great time to reflect, pray, and become closer to God."
While the some students feel the new campus ministry set up gives students the opportunity to experience multiple aspects of the Catholic faith, other students feel some wrinkles still need smoothed.
For example, fun lunch, or funch, is another new addition to the CCHS campus ministry program. Funch tasks campus ministers with serving pizza and playing games at lunch on Tuesdays with students who may feel left out in hopes of creating an inclusive environment.
Despite the best intentions, sometimes the activity falls flat.
"I don't think fun lunches are an effective way to reach out to kids without a lunch group or buddy because, if a kid sits alone, they will most likely not have the confidence to come over to a bunch of campus ministers who all know each other," funch leader Riley Hetherington '19 said.
Turns out building God's kingdom is indeed tough, but important work.