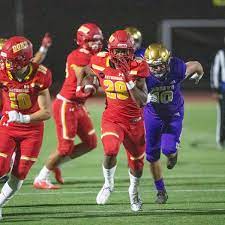 Cathedral Catholic's annual Holy Bowl game is tomorrow! The Dons are determined to be victorious once again. The rivalry between Cathedral Catholic and Saint Augustine brings about a very supportive crowd every time they face off. This long tradition of the Holy Bowl has been a thrilling spectacle since it began in 1966. 
This year, ASB is preparing to have an electrifying atmosphere in the student section. ASB student, Tessa Granieri, expresses her excitement saying, "This is going to be a showdown against the two teams and Cathedral is ready to put up a fight. ASB will be there hyping up our student section and cheering on our football team to victory."
In last year's face-off, the Dons took home a victory with a final score of 41-27. Tomorrow, we hope to have the same results at our home field. The football team has been putting in extra efforts to make their defense as strong as possible. Logan Jones, a football player on both JV and varsity teams said, "We are a defense heavy team, and that's what wins most of our games. We want to make sure our defense is on their A game." 
The football team is confident and expecting a win even though it started the season rough. The Dons are going into this game 3-6 but they are ready to bounce back and show their resilience on the field. 
Tomorrow night, the players will give their all, embodying the principles of discipline, teamwork, and commitment instilled in them by their Catholic high schools. To the players, the Holy Bowl is more than a game; it's an opportunity to showcase these values that Cathedral prides themselves in. With unwavering dedication, our players will take the field, giving their all to carry our legacy forward. Roll Dons!